Press
TV Guide, Dread Central and io9 Laud The Walking Dead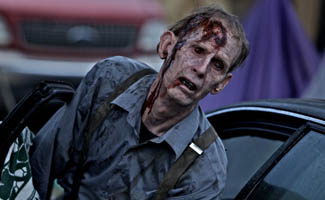 The Walking Dead enjoyed highly favorable reviews this week from TV Guide, Dread Central, io9 and others. UGO, meanwhile, looked at all the undead that have come before.
• TV Guide reviews The Walking Dead, calling it "visually stunning" and noting, "This isn't TV for the timid." (No Link.) Dread Central lauds the series premiere as "arguably the single greatest television pilot since Twin Peaks, not to mention the best zombie 'movie' in almost a decade." io9 chimes in that "Andrew Lincoln aces the role of Rick Grimes." Star Magazine (No Link) and Life & Style (No Link) both give it 3-1/2 stars out of four.
• UGO anticipates The Walking Dead with "a look at the various iterations of the undead," such as the "Infected" of 28 Days Later, Black Smurfs and Harry Potter's "Inferi."
• AMC's Filmcritic.com extols the zombie film as "one of the most versatile of genres" and examines its "grisly cinematic history."
• Marketing for the premiere has gone into full gear. Cynopsis reports on AMCtv.com's exclusive upcoming content, including a 3D game and The Walking Dead Survival Test. CableFAX Daily mentions merchandise available at Hot Topic stores, plus the chance to win a MacBook Pro. (No Link.) Other retailers with tie-ins include Villa Fresh Italian Kitchen, Play N Trade and independent comic book stores, according to Multichannel News.
• Multichannel News also explores horror-themed content, highlighting The Walking Dead as the series seeks the "same success in both scaring and entertaining audiences" as HBO's True Blood. (No Link.)
• Variety lists The Walking Dead as an exception in its discussion of how the weeks surrounding Halloween haven't always been the best for debuting horror movies.
• MTV really loves The Walking Dead press kit: "Pretty great", the site exclaims, noting a miniature replica of Rick Grimes' Colt Python revolver.
• At the 2010 Scream Awards this week, The Walking Dead won Best Comic Book or Graphic Novel. Sarah Wayne Callies and Jon Bernthal presented at the ceremony. New footage from The Walking Dead was screened: "The clip is brief but still pretty awesome, as most things we've seen from the show have been," Geeks of Doom reported.
Read More