Press
The Walking Dead New York Comic Con Panel Recap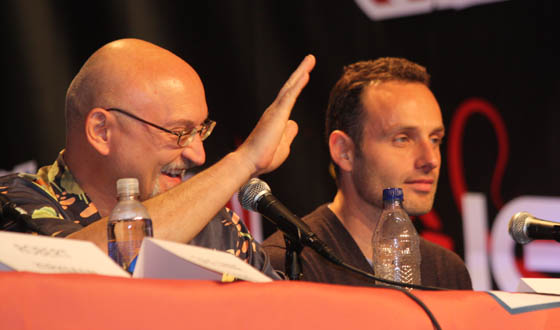 The cast and crew of AMCs The Walking Dead thrilled a packed auditorium of fans at New York Comic Con on Sunday with a Q&A session and exclusive footage from the show.
First, executive producers Gale Anne Hurd, Frank Darabont and Robert Kirkman discussed how they got involved with the project: Darabont said he was drawn to the comic as it was a way of working on a zombie project without having to make a movie. Hurd, for her part, was excited to work with AMC and push the boundaries of what you can do on television, just as the network had with Mad Men and Breaking Bad. When asked what it's like to see his comic book on screen, Robert Kirkman joked, "Its awful." In fact, the comic's creator and author penned an episode this season.
"Getting the look of the zombies was very important," Hurd said. "We wanted to make sure our zombies were a tribute to Night of the Living Dead."Kirkman cited Day of the Dead as one of his favorite zombie movies, which Darabont agreed is underrated. Darabont and Kirkman also gave a nod to Shaun of the Dead and the 28 Days Later films. "Zombies are better than vampires," Hurd declared.
Darabont explained he worked with the casting team from Breaking Bad to bring Kirkman's characters to life. "[Jon] Bernthal showed up with a pitbull," Darabont recalled of the audition. The panel were then joined on stage by actors Andrew Lincoln (Rick), Jon Bernthal (Shane), Sarah Wayne Callies (Lori), Laurie Holden (Andrea), Steven Yeun (Glenn), and Norman Reedus (Daryl) to discuss the characters and the comic book series.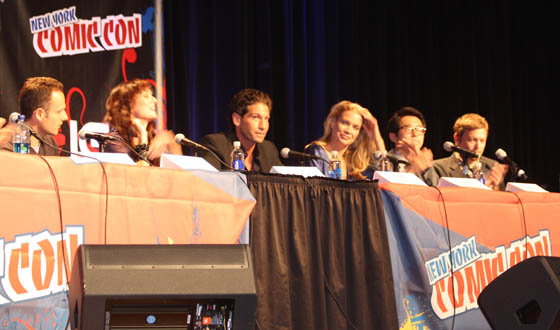 "I don't expect everyone to be very happy with me early on," Callies admitted about Lori. Andrew Lincoln explained that he started to read the comic after being cast, but eventually stopped so that his character could discover events as they were happening. Callies claimed to have been so scared by the comic, she had to "read it through my fingers." Yeun was a longtime fan, having read the first two volumes in a bookstore. "I was a poor actor back then," he laughed. As for Reedus, his character has not appeared in the comic. "Yet," Kirkman teased.
In addition to the Q&A session, exclusive footage from The Walking Dead's second episode (titled "Guts") was screened. (SPOILER ALERT!) In it, Rick Grimes crouches in a tank, receiving instruction from a voice over the radio on how to escape from a herd of walkers. That voice ends up being Glenn, who guides Rick through the crowd and up a ladder to safety. The scene ends with Rick meeding Andrea (Laurie Holden), who puts a gun in Rick's face and proclaims Rick has doomed them all. Kirkman used the clip to note how the series diverges from the comic book while at the same time staying true to it — a treat for fans of the comic as well as newcomers.
The panel concluded with the cast and crew sharing their hopes for potential future seasons of the series. Kirkman, for his part can't wait to see the Governor, while Darabont looks forward to the prison. In terms of content, the panel agreed that AMC allows them to push boundaries. "People are going to be very shocked by the level of what we can get away with," Darabont said. As any good executive producer would, Gale Anne Hurd took the opportunity to encourage fans to do their part to ensure a second season — by tuning into the premiere.
The Walking Dead premieres Halloween, Sun., Oct. 31 at 10/9c
Read More