Press
Elle Calls The Walking Dead Gripping, THR Lauds the Series Poster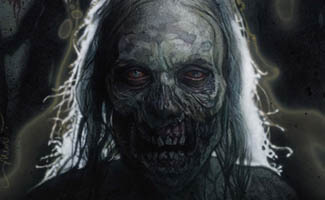 This week The Walking Dead is highlighted in various fall previews (TV Guide, The Washington Post and more), and critics are raving about the new series poster art.
• Elle Magazine says The Walking Dead "is a gripping, dark character study of how we transform in the face of our greatest fears." (No Link).
• The Walking Dead poster released this week is pronounced "perfect" by The Hollywood Reporter. Other reactions: "rather chilling" (Comic Book Resources), "striking" (Shock Till You Drop), "awesome" (/Film) and "sweet" (Screen Junkies). FEARNet thinks it "should be the iconic image of the series."
• In TV Guide's fall preview, Robert Kirkman promises, "They're the best zombies you've ever seen." (No Link) The Daily News includes The Walking Dead in its fall TV preview, as does The Washington Post, which says the trailer "hints at being a high-quality zombie saga for the discerning viewers' braayiiiiins." Newsday includes the drama in its list of Top Attractions for the fall TV season (No Link), and the Star Tribune writes, "I'm tickled pink about The Walking Dead" (No Link).
• Frank Darabont tells the Los Angeles Times that The Walking Dead is "allowing him the opportunity to marry… A-list sensibility with his inner geek."
• The Walking Dead will be distributed outside North America by Entertainment One, The Hollywood Reporter and C21 Media report.
Read More