Press
CNN, New York Magazine and Vanity Fair Visit The Walking Dead at Comic-Con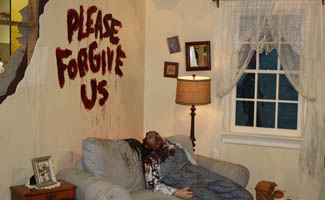 The Walking Dead's presence at Comic-Con last week whet the appetites of zombie fans and critics alike. CNN, Vanity Fair and New York Magazine among others weighed in.
–New York Magazine's report from Comic-Con has this item: "Great-looking footage from AMC's The Walking Dead continues to make us think it will be terrific."
–Vanity Fair thinks The Walking Dead "promises to bring something new to television."
–CNN discusses TV shows using Comic-Con to build buzz, saying The Walking Dead benefits from "an audience that already knows the show's title from the comic book on which it's based."
–Variety includes The Walking Dead in a piece about TV shows gaining prominence at Comic-Con.
-Check out Entertainment Weekly's photo of The Walking Dead's cast at EW's Comic-Con photo booth.
–Mania says The Walking Dead Comic-Con trailer "was incredibly intoxicating… after seeing how faithfully the spirit of Kirkman's written work came to life, you couldn't wait for this series to begin." TV.com calls the trailer "fantastic–dark, suspenseful, all kinds of creepy," while BuzzSugar says the footage "gave me chills."
–Screen Junkies was at the Comic-Con panel and concludes, "Overall, you must seriously, definitely, totally not miss The Walking Dead." /Film adds, "I can't tell you how excited I am about this upcoming series." Rabid Doll thinks AMC is "looking to incite some serious zombie euphoria."
–Frank Darabont talks to The Flickcast about AMC's lack of limitations: "Everybody's putting it on film the way that it feels best and we're not having to go, 'Oh gee, will we get away with this?'"
–Andrew Lincoln tells SFX that Shaun of the Dead actor Simon Pegg gave him "a primer in zombie lore. Zombies represent our fear of death."
–Jon Bernthal describes The Walking Dead to MTV: "You're basically dealing with a bunch of human beings who are searching for some sort of humanity when all humanity is lost."
-Illustrator Tony Moore, who created The Walking Dead with Robert Kirkman, tells Cincinnati.com about the series: "It's a really surreal feeling to see my images brought to life."
-In discussing the Drew Struzan's limited edition poster for The Walking Dead, TV Overmind says, "It seems to me like AMC might just be doing the right job with this show."
Read More