Press
MTV Chats With Darabont; Kirkman Tells NY Times He's Following AMC Model for Comic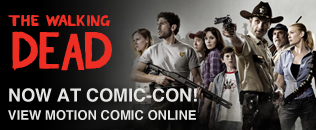 Comic-Con International is in full swing, and The Walking Dead is enjoying lots of attention there, including interviews and panels with Frank Darabont, Robert Kirkman and Andrew Lincoln. The New York Times also has a feature on Kirkman's new comic book imprint. Plus much, much more.
• MTV talks on-set with Frank Darabont: "We're going to follow the Robert Kirkman narrative pretty closely, but we're giving ourselves permission to veer off path and find the interesting detours." The Salt Lake Tribune picks up the MTV story and enthuses, "Man, I'm really looking forward to this one."
• In the New York Times, Kirkman says he'd like his comics imprint to follow AMC's model, noting "it was awhile before they started branching out to other things."
• At Comic-Con, Frank Darabont explains to HitFix, "I loved the idea of an extended, ongoing, serialized dramatic presentation set in the zombie apocalypse."
• In Newsarama: Kirkman stresses the TV show honors the source: "There's nothing you wouldn't see in the comic — it's going to be very true to the material."
• Kirkman tells USA Weekend about reaching a wider audience: "Being able to have the television show out there and hopefully that'll steer some people into trying the comic book…"
• USA Today features The Walking Dead in its Comic-Con preview.
• Ahead of his Comic-Con appearance, Andrew Lincoln admits to USA Weekend, "To be brutally honest, I am [freaking] terrified." And The Walking Dead actor shares with io9 why he wanted to play Rick Grimes: "I really responded to him when I read the graphic novel.'"
• FEARnet talks to Greg Nicotero: "I've literally handpicked most of the zombies for every sequence because we're going for a specific look and a specific portrayal."
• UGO has updates on the newest cast members, Michael Rooker and Norman Reedus: "For a series featuring a ton of lifeless zombies, AMC has certainly built up a lot of excitement."
• Ain't It Cool News is enthralled by artist Drew Struzan's poster for The Walking Dead, describing it simply as "excellent."
• Shock Till You Drop discusses a motion-comic version of The Walking Dead: "It's admittedly pretty damn cool."
• Comic Book Movie excerpts Executive Producer Gale Anne Hurd's Q&A with AMCtv.com, noting that "her support of this comic adaptation is almost a surefire recipe for success."
Read More