Uncategorized
Dispatches From the Set – Episode 2 Director Michelle MacLaren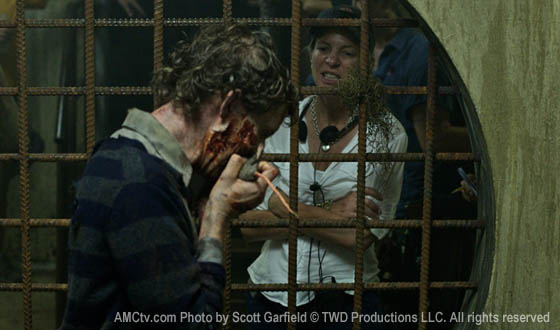 The Breaking Bad Director and Co-Executive Producer describes becoming a graphic novel addict and facing her fear of rats during a zombie apocalypse.
Q: How did the opportunity to direct an episode of The Walking Dead come about?
A: AMC introduced me to Frank Darabont and Gale Anne Hurd, who really like Breaking Bad. Although The Walking Dead is a very different show to Breaking Bad, they mentioned incorporating some of the pace and style from Breaking Bad.
Q: Were you a comic book reader before this?
A: Well, the Archies when I was a kid. [Laughs] I am in love with graphic novels now, though. When AMC called about the project I immediately went out and got all the comics. I couldn't put them down — I carried them everywhere I went. Graphic novels are such a visually creative world — it's really interesting what they can do in one sketch. Now I'm hooked. I would love to find something else in this world to do.
Q: Your episode has a lot of elements that are not in The Walking Dead comics. Was it strange to tread new ground?
A: We always had the comic in mind. I love to shoot wide, graphic shots, so we had many moments in shooting this episode where we'd make choices because it was like a graphic novel, or it reminded us of the comic. Even though we got some in, I would have liked to have had time to shoot more long lens shots — I know Frank really likes that look — but it does take longer when you're in certain situations, and this episode really required a lot of action. So things were a little bit more frenetic and fast-paced. [Laughs] I'm laughing because I'm thinking about some of our days, and I'm thinking, "God, that's an understatement!"
Q: Any day in particular?
A: We were shooting on the street the other day, where we find Rick and Glenn in a rather dangerously challenging situation with walkers. We had 100 walkers, control of some downtown Atlanta city streets, and Rick and Glenn running for their lives. Both Andy [Lincoln] and Steven [Yuen] got so into it… well I don't want to give anything away. Lets just say there are moments when you just have to pinch yourself and say, "This is so cool, I can't believe I get to shoot this, I am in the middle of a graphic novel."
Q: What's the most challenging aspect of shooting this series?
A: This show creates its own post-apocalyptic world. I keep saying "OK guys, I know it's an eighth of a page in the script, but it might as well say, 'And Atlanta burns,' because every scene there's something happening." You're not just dealing with two people talking, there's also 50 zombies banging at the door, and there is zombie goop and intestines and guts and everything around them, which is sticky — it sticks to the actors and sticks to everything. You have to be really cognizant of everything going on in this world, and the rules of this world. It's very layered which of course makes it challenging and fun!
Q: You once described getting nightmares because of your work on The X-Files. Did you get any nightmares in Atlanta?
A: [Laughs] No, but when I'm directing and we're rolling I really lose myself in the scene. So if somebody comes up and taps me on the shoulder, they will completely and utterly startle me, "Oh-my-God-there's-a-zombie!" I have a major rat phobia, and we were shooting with some rats the other night, so I took an apple box and I stood on it, because if my feet weren't touching the floor, the rat couldn't touch me. And the still photographer, Scott [Garfield] kept looking at me and then down to my feet. And in his head, he was saying to me, "Why are you standing on the apple box?" But in my head, he was saying, "Hey, there's a rat at your foot." So I started going, "Where? Where! Where is it?!" [Laughs] It's just these little things that can make you jumpy because you have this scary tension around you.
Q: It's an interesting coincidence for you that both Breaking Bad and The Walking Dead feature an RV–
A: I thought you were going to say,"feature an axe." I have an axe in this show. [Laughs] I thought it was funny that there was both an RV and an axe, and I thought there might be some Breaking Bad fans who go, "Hmmm?" But the axe doesn't play a huge part, not like in Breaking Bad.
Q: Did you film it skimming along the ground at a close angle?
A: You may be on to me [Laughs]. I did a little, tiny homage to Breaking Bad. I didn't do the exact same thing, but it was close. It was funny because Andy was carrying it, and he started to scrape it along the ground and I said, "Andy don't do that." [Laughs] "That is just waaaay too similar."
Click here to read an interview with Michelle MacLaren for her work on Breaking Bad
Read More