Press
Kirkman Talks to USA Today; Digital Spy and UGO Impressed by Nicotero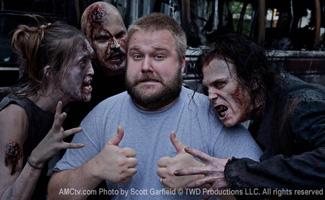 The writer of The Walking Dead chats with USA Today about going Hollywood, while AMCtv.com's interview with the show's special effects makeup designer gets picked up by Digital Spy, UGO and several other media sites.
• Robert Kirkman tells USA Today he wants The Walking Dead to have a very long run: "I'm hoping we blow past M*A*S*H, The Simpsons, Bonanza — I want 27 years of The Walking Dead!" MTV, Comic Book Movie and Comic Book Resources also discuss the Kirkman interview.
• How to ensure that The Walking Dead's cast stands out from the zombie crowd? "Simple: hire legendary monster maker, Greg Nicotero," writes UGO. Digital Spy, Comic Book Movie, Rabid Doll and Mania.com have more on AMCtv.com's interview with Nicotero.
• FX Channel will broadcast The Walking Dead in the U.K. starting in October, according to Marketing Week.
Read More