Press
The Walking Dead's Zombies Come to Life at Comic-Con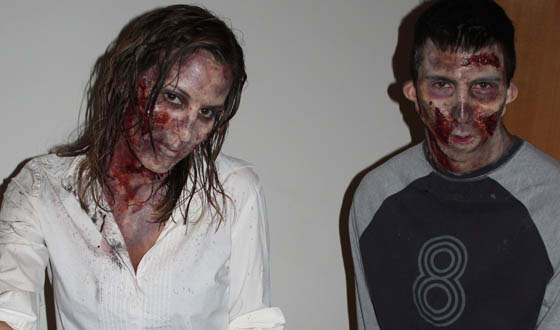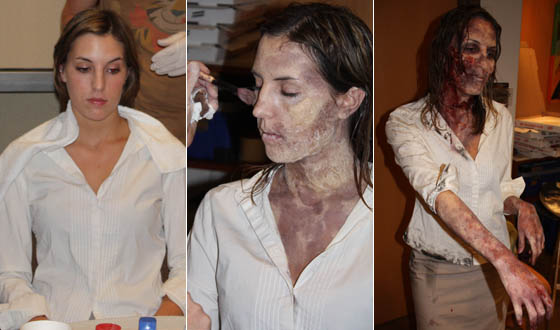 At seven in the morning on Thursday, the first official day of San Diego Comic-Con, thirteen extra-large pizza boxes line the back wall of a conference room in the Omni Hotel. Of course, the walking dead have no taste for pizza. Instead, the boxes contain all manner of zombie prosthetics soon to be attached to ten extras hired to play the walkers who will roam the convention grounds this weekend.
"What's this?" one of the eight make-up artists asks, opening a box filled with small lumps of latex. "Bite marks," says Garrett Immel, the on-site special effects make-up artist from KNB EFX (the company responsible for all the zombies in The Walking Dead series). "Ya gotta become a zombie somehow."
Right now, only one walker is in the room: Emily McGreevy, who showed up early so the hired artists can watch the master at work. McGreevy, along with her fellow walkers, attended a zombie school crash course yesterday, which included a video and instructions not to bite attendees. She spent last night practicing her walk: "I think I'm gonna drag my foot," she explains before shambling forward with her ankles splayed and her arms raised. She's got the moves. Next up is the look.
First is hair: Zombie coifs are greasy and unkempt, which here entails a handful of conditioner and some quick tousling. Someone mentions how good it smells, but Immel quickly chimes in, "Conditioner smells horrible after weeks of doing it. Worst smell ever." He should know. He made up zombies for the first four episodes.
Next comes the latex. Moistened, this stuff slips right out of the box and onto McGreevy's face and neck. Without makeup, the latex looks like scar tissue. After a few layers of makeup — "Sloppy is better," Immel instructs — she looks like she's rotting away.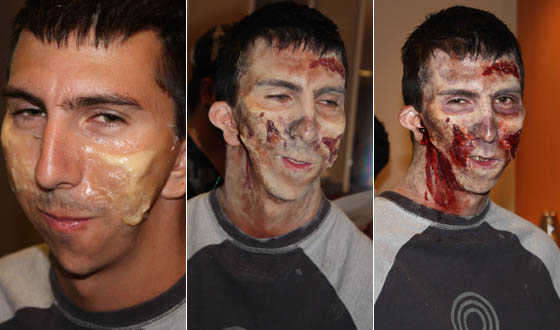 As Immel turns to applying blood — first a thick layer that comes out of a jam jar, then a liberal splattering of goo from a gallon jug labeled "Dark Blood" — more extras start filtering in. "Oh my God," laughs Josh, an Iraq vet and horror buff who was strolling online for something fun to do when he stumbled upon the Comic-Con casting call. "I can't wait." While Josh gets changed and ready for his own hair conditioner, Immel mixes together a shade of makeup that looks like dried blood, which he then splatters onto McGreevy's face, arms, legs and torso, Jackson Pollock-style.
The last stage is teeth: McGreevy's are too white. But that's nothing a little coffee-colored paint can't fix. McGreevy, who's never had any sort of prosthetic make-up on before, is speechless when she looks in the mirror. Soon, though, she can't help but smile.
By 8AM, she's officially undead. Immel asks her to hang around so the other artists can use her as inspiration. Immel says that the work he's done on McGreevy is nearly identical to that in the series. "I've tried to simplify the process a little bit," he admits, but aside from that the only thing she's missing are the "dead eye" contact lenses, which he was unable to bring from the set.
"This is so cool," McGreevy enthuses later while practicing her zombie walk. When asked if she'll still feel that way on Sunday, after she's done this process four times, she replies, "Are you kidding? I'm hooked!"
Read More