Press
io9 Likes Andrew Lincoln as Rick, IESB Visits The Walking Dead Set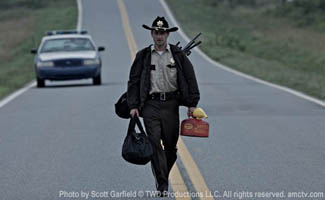 Press outlets this week tout a new photo of Andrew Lincoln in costume while IESB shares tidbits from a visit to the Atlanta set.
• io9.com reacts to the first photograph of Andrew Lincoln as Rick Grimes: "Looks great," says the site's Meredith Woerner, who looks forward to seeing "Grimes take a hatchet to the skull of a 'walker.'" Comic Book Resources, MTV, Zap2It, Dread Central, MovieWeb and TV Overmind also comment on the photo.
• IESB visits The Walking Dead set in Atlanta, reassuring fans, "Don't let the fact that it's on network (cable) television lead you to believe it will be toned down. This show will be bloody. Very bloody."
• Shock Till You Drop's six reasons to watch The Walking Dead include: "It's fearless and direct, revealing the horrors of not just a world overrun by zombies, but humanity under duress."
• Variety reports that actress Emma Bell (Frozen) has been cast in The Walking Dead as a college student seeking safety with the remaining survivors.
Read More