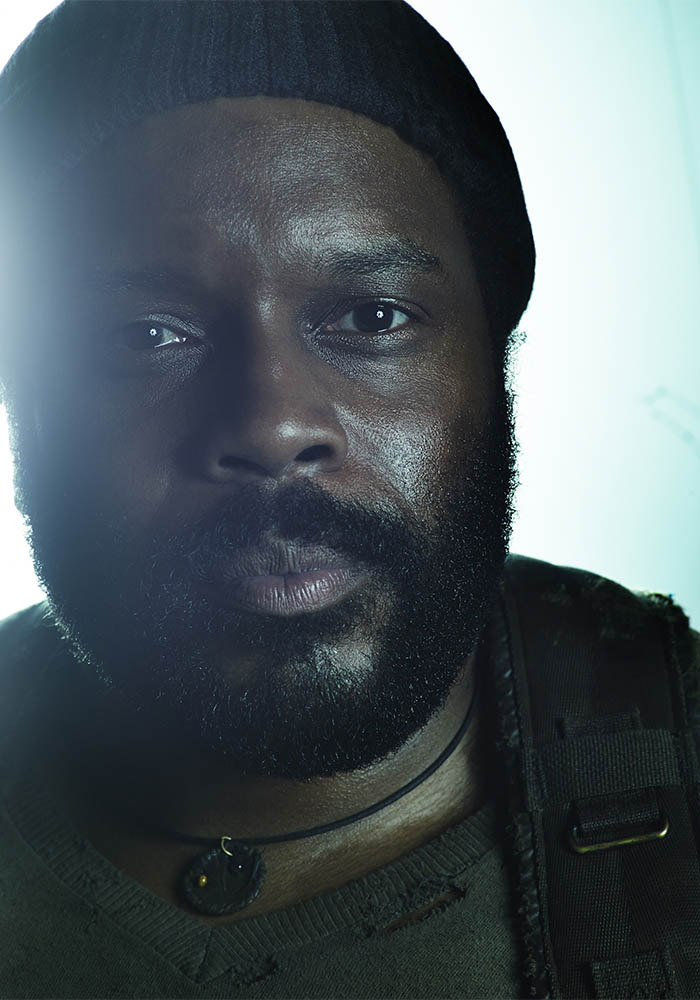 Tyreese and his sister Sasha were fleeing an overrun camp in Jacksonville when they stumbled onto Rick's group at the prison. Tyreese is a capable soldier but is also a kind and thoughtful member of the community. Despite his inherent goodness, however, Tyreese is capable of violent outbursts. When his girlfriend Karen is murdered at the prison, Tyreese brawls with Rick for not prioritizing a manhunt for the killer.

After the prison is destroyed by the Governor, Tyreese flees with Lizzie, Mika and Judith and later joins up with Carol. While sheltering at a farmhouse, Carol confesses to killing Karen at the prison. Tyreese contains his anger and forgives Carol.

Tyreese is part of the team that goes to Atlanta to rescue Beth and Carol. When Rick proposes a violent takedown of the hospital, Tyreese suggests the more peaceful route of kidnapping Dawn's officers and arranging a prisoner exchange. Despite the trade going wrong and resulting in Beth's death, Tyreese insists things "went the way they were always supposed to."

After the group leaves Atlanta, Tyreese gets bitten during a scouting mission at an abandoned community. Michonne cuts off his arm to prevent the spread of infection, but before the group can get him back to safety, Tyreese slowly bleeds out and dies.

An accomplished television, film, and stage actor, Chad received critical acclaim for his work on HBO's Peabody Award-winning drama series The Wire, playing Cutty for several seasons. He previously starred on the series I Hate My Teenage Daughter, produced by Sherry Bilsing-Graham and Ellen Kreamer, and held a recurring role in Terminator: The Sarah Connor Chronicles. Additional television credits include Lie to Me, The Good Wife, and It's Always Sunny in Philadelphia.

On the big screen, Coleman was seen in New Line Cinema's Horrible Bosses, directed by Seth Gordon and starring Jennifer Aniston, Jason Bateman, Colin Farrell, and Kevin Spacey; as well as The Green Hornet, directed by Michel Gondry. Other film credits include Brother to Brother, with Anthony Mackie; Carlito's Way: Rise to Power, with Jay Hernandez; and the independent feature Confessions, with Lynn Whitfield and Bokeem Woodbine.

Coleman made his Broadway debut in Lincoln Center Theater's 2009 revival of August Wilson's Joe Turner's Come and Gone, which was nominated for six Tony Awards®. Additional Broadway and Off-Broadway credits include the Wooster Group production of North Atlantic, with Willem Dafoe and Steve Buscemi; Elle, with Alan Cumming; the Atlantic Theater Company's world premiere Force Continuum; and American Place Theatre's Living in the Wind. He also appeared in Watch of the Nightingales; Man in the Polyester Suit; and Miss Evers' Boys, directed by Kent Gash.

When Coleman is not working in front of the camera, he dedicates his time to helping underprivileged youth find proper mentorship. He is also involved with various causes including Tim & Daphne Reid's Virginia Scholarship & Youth Development Foundation and the Special Olympics of Northern California.