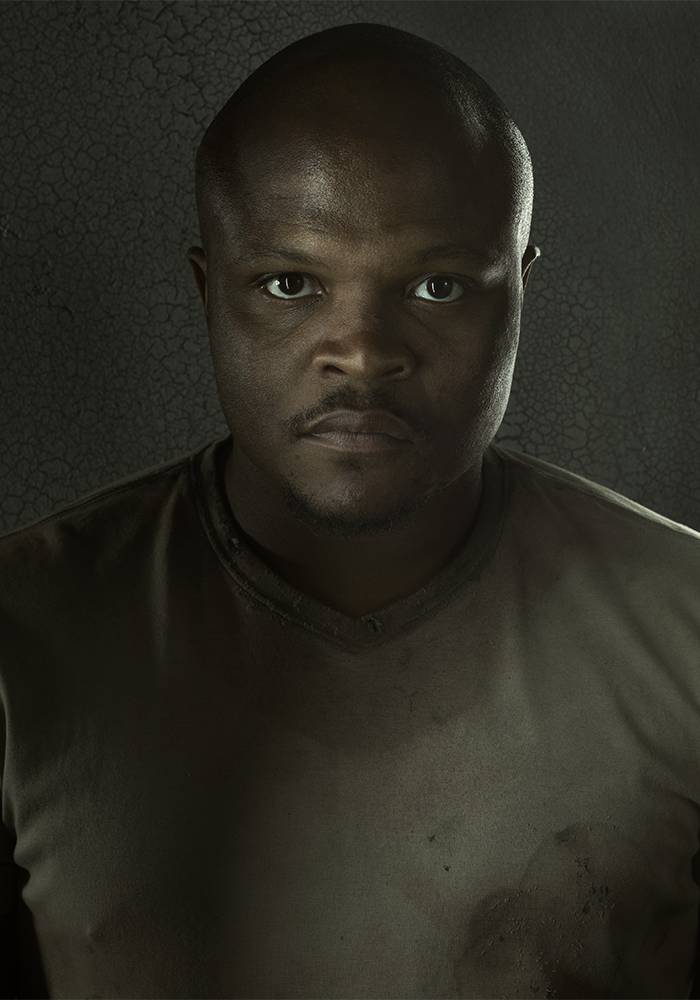 Struggling with the guilt of abandoning Merle Dixon on a department store rooftop, T-Dog – born Theodore Douglas -- feels the need to continually prove his value as a member of the group.

But T-Dog's experiences since the apocalypse have slowly undermined his confidence, leaving him vulnerable and quick to flee. After being injured during a walker attack, T-Dog deliriously suggests to Dale that the two should just take the RV and abandon the others. Later, he apologizes, asserting that "I'm not a coward, and I'm not weak."

Still, T-Dog is a highly moral person, eagerly volunteering to go after Merle despite their differences.

A proven soldier, T-Dog bravely defends the group on several occasions against walker attacks, and personally rescues Lori and Beth during the herd attack on the farm. Afterwards, however, T-Dog falls back on his instincts to flee, refusing to face the danger of driving Lori back to the highway to regroup with Rick.

"We've got a shot to get away in one piece," he argues, but when Lori threatens to jump from the vehicle, T-Dog relents. "You're out of your damn minds," he declares.

When a walker herd infiltrates a prison in which the survivors have taken refuge, T-Dog gets bitten in the shoulder while securing the courtyard gate. Despite Carol's offer to "do whatever's necessary" to prevent him from turning, T-Dog insists on guiding her to safety: "This is God's plan," T-Dog says. "He'll take care of me."

T-Dog and Carol reach a set of doors blocked by walkers. Out of ammo, T-Dog charges them and urges Carol to keep going. She reaches the doors, but looks back in horror as the walkers tear T-Dog apart.

IronE Singleton is best known to audiences as the menacing kingpin Alton in the Academy Award-nominated film The Blind Side; the biggest box office grossing sports movie of all time. He is also known as the compassionate tough guy, T-Dog, in AMC's The Walking Dead. IronE's unusual name depicts his life story, his ability to play strong, multidimensional characters and has made him a memorable actor in both film and television.

Singleton appears on the big screen alongside Bow Wow and Ice Cube in Lottery Ticket. He stars alongside Nicolas Cage, Guy Pearce and January Jones in the feature film Seeking Justice and will soon captivate the Lifetime audience in his leading role as Glock Nichols with Neve Campbell in Sworn To Silence. Singleton's talent is on display in several television pilots, including ABC's Detroit 1-8-7, VH1's Single Ladies and TNT's Franklin & Bash. Among his other television credits are CW's One Tree Hill and BET's Somebodies. As a result of IronE's success on The Walking Dead, he has been sought to write an introduction for two zombie theme anthologies; Zombie Survival Crew: Undead Is Not An Option and Appalachia Undead.

Born and raised in Atlanta, GA, Singleton's story embodies everything we have come to understand about the lives of many inner city youth growing up in low-income housing projects. Fatherless and having lost his mother to HIV/AIDS when he was a senior in high school and watched his brother spend most of his life in Georgia's prison system, IronE fought to have a life far different from the one he knew growing up. The "irony" of his story is that, while all the odds were stacked against him, IronE Singleton still overcame his troubled childhood to attend the University of Georgia on academic and football scholarships where he completed a double major in Theater and Speech Communications.

Prior to breaking into film and television, Singleton wrote, directed and performed a critically acclaimed One Man Stage production entitled IronE . . . The Resurrected, which garnered rave reviews. He is now in the process of transcribing the production into a semi-autobiography book manuscript which chronicles his life from poverty to fame; available spring 2013. His ambition is to have it produced as a movie along with his current screenplay Volleyball Vixens. IronE is also overly enthusiastic about incorporating his non-profit performing arts school, IronE School of The Arts (ISA) which will provide youth with a performing arts program that is intellectually stimulating, emotionally compelling, aesthetically enriching and personally relevant with a strong emphasis on truth, purpose, respect for self and others and love for all of humanity. In his spare time, Singleton is a motivational speaker and lyricist. Samples of his music, including titles such as "We Are The Walking Dead" and "The Blind Side" are available at www.IronEsingleton.com.

Singleton divides his time between Atlanta and Los Angeles with his wife and children.