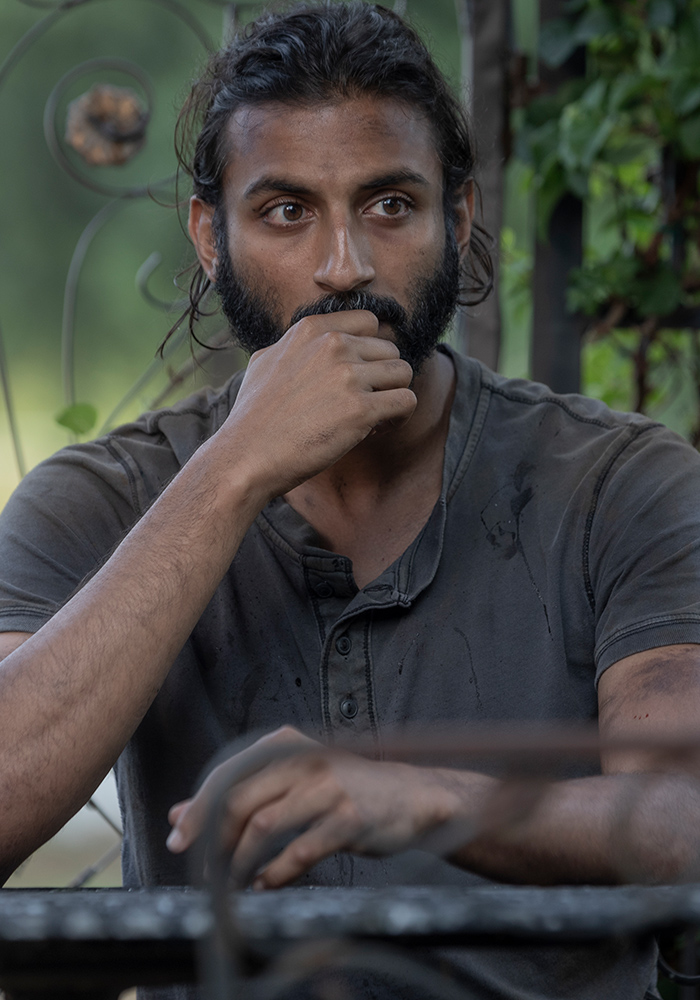 As the sole survivor of Alpha's wrath last year, Siddiq is suffering from PTSD. He is privately trying to piece back together his sanity while tending to his newborn and the increasing medical needs for Alexandria. Faced with a memory that never ends, he questions what is happening around him, inching further down the rabbit hole of depression and anxiety.

Avi Nash enjoyed a nomadic childhood, moving from New Jersey to Georgia to Texas. The son of immigrants from South America and India, he grew up amongst varied accents, languages, and cultures.

Nash attended Stanford University, where his creative nature began to take over, and he left his studies twice: first to study acting in Mumbai; and later, to study literature in Madrid. He did graduate with a degree in Mathematics and Architectural Design, only to backpack across South America, settling in Buenos Aires. 

Eventually Nash found his way to Los Angeles and later, London. There he trained at the London Academy of Music and Dramatic Art (LAMDA), earning his MA in Classical Theatre. During this time, he appeared in the stage productions of Othello, The Way of the World, Don Juan, Tis Pity She's a Whore, and an abridged version of Shakespeare's First Tetralogy.

Nash made his feature film debut alongside Sir Ben Kingsley and Patricia Clarkson in Isabel Coixet's Learning to Drive. He also appeared opposite Devon Terrell and Anya Taylor-Joy in the critically acclaimed Obama biopic Barry, and guest-starred on the Emmy winning HBO series Silicon Valley.

In addition to portraying Siddiq on AMC's The Walking Dead, Nash will next be seen as the lead in the independent film, Hosea.

When he's not acting, Nash can be found on the soccer pitch, the side of a mountain, or in the kitchen. He recently accomplished a trek to Everest Base Camp and completed a stage at a renowned bakery in Rennes, France.

Nash resides with his backpack between London, New York, and an ever-changing plane ticket.