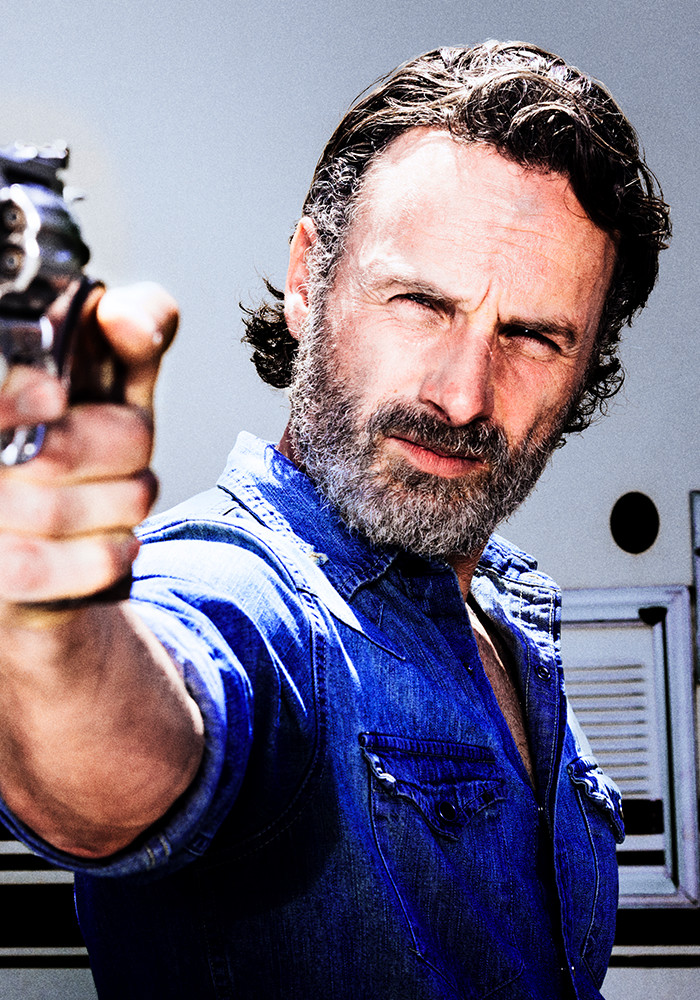 Rick, now with the Hilltop and Kingdom communities at his side, starts an all-out war against the Saviors. After unifying them with the promise of a brighter future, he has convinced his people that taking down Negan is the only way. However, in order to defeat them, Rick is forced to embrace some cold brutality, sending him to a dark place that has him questioning his own humanity.

Drama Series at the 2013 Critics Choice Television Awards, and 2011 and 2013 Saturn Award nominations for his work on The Walking Dead.

Lincoln made his television debut in the 1994 series Drop the Dead Donkey. His first major role was Edgar "Egg" Cook, one of the lead characters in BBC's successful drama This Life. Since then, his multiple television credits include This Woman in White, Bomber, A Likeness in Stone, Trevor's World of Sport, The Canterbury Tales, Whose Baby?, and Lie with Me.

In addition to starring as Simon Casey in the popular British television sitcom Teachers, a comedy-drama that follows the exploits of school staff both in and out of the classroom, Lincoln also made his directorial debut on the series. Teachers was nominated for six BAFTA Awards between 2002 and 2004, and was nominated for Best British Comedy Show at the British Comedy Awards in 2003. Additionally, Lincoln earned a BAFTA TV Award nomination for Best New Director (Fiction) for his work on the series. More recently, Lincoln has played major roles in Stephen Volk's Afterlife, for which he won a Golden Nymph Award for Outstanding Actor in a Drama Series, and Strike Back, a six-part British television series based on the novel of the same name, written by best-selling author and former soldier of the Special Air Service Chris Ryan.

Lincoln made his big-screen debut as Ted in Paul Hill's 1995 drama Boston Kickout. However, he is perhaps best known to film audiences for his role in Love Actually, a 2003 British romantic comedy film written and directed by Richard Curtis. The film delves into different aspects of love as shown through multiple and separate relationships, many of which become intertwined as the movie progresses. Lincoln plays Mark, a distant and romantic character, who we learn is secretly in love with his best friend's wife. Other film credits include Enduring Love, Human Traffic, These Foolish Things, Hey Good Looking!, Scenes of a Sexual Nature, Heartbreaker, and Made in Dagenham. In addition, he played Mike Collins in Moonshot, a film about Apollo 11 for American television, and Edgar Linton in Wuthering Heights for ITV.

Lincoln is a gifted veteran of the theater, having starred in many theatrical productions. He tackled the role of Dale in Jez Butterworth's Parlour Song at London's Almeida Theatre. Unlike many of his previous television and movie roles, Dale is a cocky and brash 40-year-old who must face his anxieties about aging. Among his many additional stage credits are roles in Joe Penhall's Blue/Orange at the National Theatre with Bill Nighy and Chiwetel Ejiofor; Jonathan Harvey's AIDS drama Hushabye Mountain; and Sam Shepard's The Late Henry Moss.

Additionally, Lincoln recently appeared in "Red Nose Day Actually," a Love Actually reunion to raise funds for Red Nose Day.