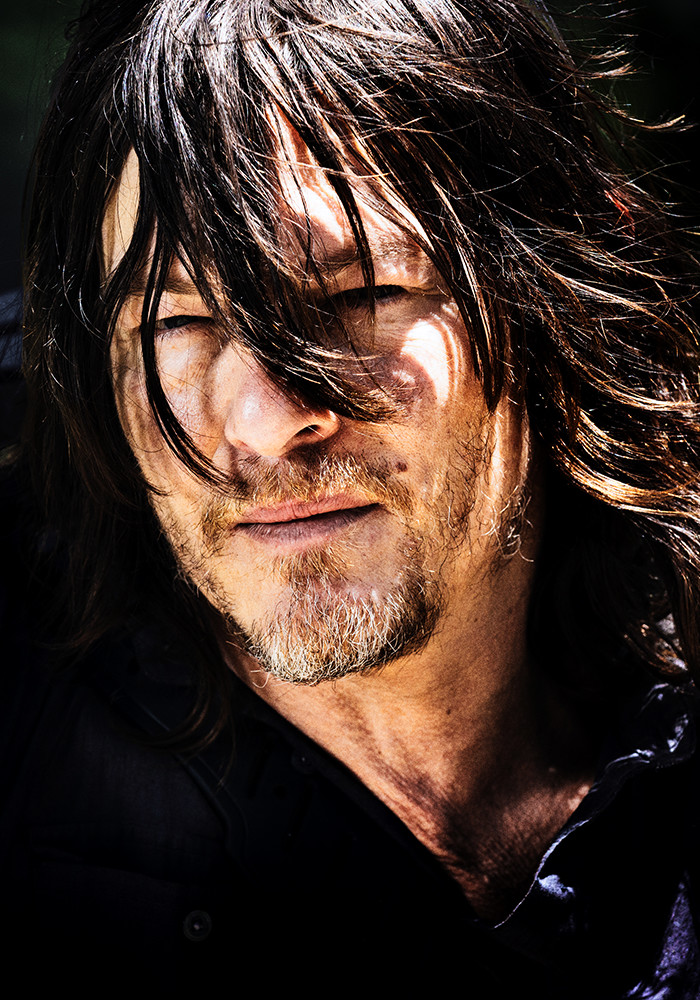 After finally escaping the Sanctuary, Daryl spent a good amount of time blaming himself for Glenn's death. That guilt quickly shifted to anger and revenge, as he's now out for Savior blood. Daryl would do anything for his family, but as long as they are under constant threat, Daryl's rage has nowhere to go but outward and toward the Saviors.

Norman Reedus has amassed an impressive resume of diverse roles, starring among some of today's most-respected actors. He continually proves to be one of Hollywood's most engaging and sought-after talents.

In addition to The Walking Dead, Reedus recently completed Season 2 of AMC's unscripted series Ride with Norman Reedus. Each hour-long episode follows Reedus and a friend touring a different city via motorcycle and checking out bike shops, tattoo parlors, and local restaurants frequented by chopper enthusiasts. Reedus's companions range from actors to local bikers.

In early 2016, Reedus starred in John Hillcoat's ensemble cop drama Triple Nine with Casey Affleck, Woody Harrelson, Chiwetel Ejiofor, Kate Winslet, Anthony Mackie, and Aaron Paul. Reedus plays a corrupt cop who is blackmailed by the Russian mob to execute a virtually impossible heist. Reedus also starred opposite Diane Kruger, Lena Dunham, and Joshua Jackson in the French indie film Sky.

Prior to starring as Daryl in The Walking Dead, Reedus was well-known for playing the role of Murphy MacManus in the cult movie The Boondock Saints, written and directed by Troy Duffy; in this film Reedus starred opposite Sean Patrick Flanery and Willem Dafoe. He starred opposite Flanery again in the sequel Boondock Saints 2: All Saints Day.

Additional past film credits include Robert Kirkman's sci-fi thriller Air, from Sony Pictures; the indie drama Sunlight Jr., which premiered at the 2013 Tribeca Film Festival and also starred Naomi Watts and Matt Dillon; the Robert Redford-directed feature The Conspirator, which chronicles the trial after the assassination of Abraham Lincoln; the sci-fi feature thriller Pandorum with Dennis Quaid and Ben Foster; the Sony feature Cadillac Records opposite Adrien Brody; Six Ways to Sunday, 8mm, Beat, Deuces Wild, Blade 2, Gossip, The Ballad of Bettie Page, and American Gangster.

Reedus is also an accomplished photographer as well as a burgeoning director, having directed three short films. In October 2013, he released a book of his photography, The Sun's Coming Up…Like a Big Bald Head: Photographs by Norman Reedus.