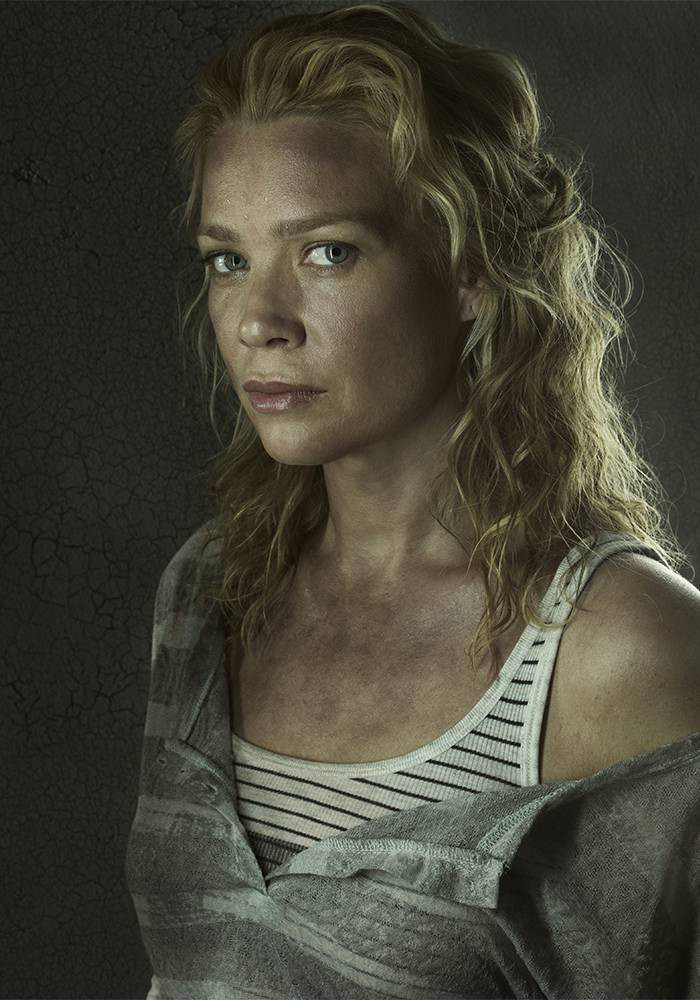 A successful civil rights attorney, Andrea was on a road trip with her younger sister Amy when the zombie apocalypse occurred. They were rescued by Dale and lived with him in his RV.

Andrea is headstrong, opinionated and extremely protective of Amy. But when Amy is killed in a walker attack, Andrea becomes distraught, lamenting to Dale that "there's nothing left," and opting to stay inside the CDC as it self-destructs rather than live on. Dale, however, convinces Andrea to leave the building by vowing to stay as well.

Andrea's new lease on life comes with a desire to protect herself and the group, which she accomplishes by forging a friendship with Shane. He, in turn, teaches her everything from gun maintenance to sharpshooting, at which she excels.

Never one to shy away from a fight, Andrea is instrumental in defending the group against a herd of attacking walkers one night, but in the ensuing chaos, she gets left behind.

Alone in the woods and out of ammunition, Andrea is about to be bitten by a walker when its head is sliced off.

As the walker's body slumps over, Andrea sees standing before her a hooded stranger wielding a katana sword. The figure is Michonne, and the two become close traveling companions.

Andrea and Michonne are abducted by Merle Dixon and taken to Woodbury, where they meet the Governor. Andrea is immediately taken with Woodbury and decides to stay even after Michonne, who is suspicious of the Governor, leaves. She becomes the Governor's lover and assists in his efforts to keep the town safe. When she learns that he corrals walkers to fight in gladiator battles, she bristles and calls it "barbaric" but admits it also excites her.

Gradually, Andrea learns about the Governor's cruel nature. When she discovers his plans to attack the prison, she tries to broker a truce. The Governor pretends to strike a deal with Rick but secretly plans to kill everyone.

When Andrea finds out his intentions, she escapes Woodbury to warn Rick. The Governor chases her down and ties her up in his torture chamber. He kills Milton and locks them in together.

Before he dies, Milton asks why Andrea stayed with the Governor even after learning Rick and the others were still alive. "I wanted to save everyone," Andrea says.

Milton reanimates and attacks Andrea, ravaging her neck. After defeating the Governor at the prison, Rick brings a team to Woodbury, where they find Andrea on the throes of death.

Using Rick's gun, Andrea shoots herself with a tearful Michonne at her side.

Laurie Holden stars as Andrea in AMC's The Walking Dead. Holden's big acting break found her starring opposite Vanessa Redgrave in the critically acclaimed TNT mini-series Young Catherine. However, it was her recurring role as the mysterious Marita Covarrubias on Fox's long running hit The X-Files that first gained her notoriety.

Her big screen debut was playing opposite Jim Carrey in Frank Darabont's The Majestic. The 1950s period piece earned Holden critical acclaim and a place on Entertainment Weekly's "100 Most Creative People in Entertainment" list, and Variety's "Ten Actors To Watch" list. Holden co-starred opposite Michael Chiklis in Fox's Fantastic Four and then ventured into the gamer genre with her starring role as the iconic Cybil Bennett opposite Sean Bean in Christophe Gans' cult horror classic Silent Hill. She starred as Agent Olivia Murray in the final season of the critically acclaimed series The Shield and also starred opposite Thomas Jane and Marcia Gay Harden in the sci-fi thriller The Mist.

Recently, she received a Best Supporting Actress nomination for her role on The Walking Dead by Spike TV's Scream Awards, as well as by the Saturn Awards. Earlier in her career she received a Best Actress nomination from the Genie Awards, Canada's equivalent to the Emmys, for her guest-starring role on the Canadian comic hit Due South.

As a teenager, Holden won Elite's "Look of the Year" modeling contest in Toronto, which led to much of her childhood being spent in front of not only cameras, but also audiences. While she dabbled in acting throughout her childhood, it was at UCLA where she switched her major from Finance to Theater Arts. The move paid off. Upon graduation, Holden was accepted as part of the National Honor Society and received the Natalie Wood Award for Best Actress. She went on to study the classics at The Webber Douglas Academy of Art and honed her craft under the tutelage of Larry Moss at The Larry Moss Acting Studio.

When she's not working, Holden dedicates her time to enriching and protecting the lives of women and children victimized by the sex trade through her philanthropic work with the Somaly Mam Foundation, a non-profit organization dedicated to eradicating modern day slavery. In addition to volunteering in the field working in Somaly Mam schools and safe houses in Cambodia and Vietnam, Holden serves on the Board of Directors of the organization. She also actively supports HomeFromHome, a South African based non-profit that provides shelter and education for HIV infected orphans. She has spent months at a time living in the Khayelitsha township in South Africa working with the children that live in the orphanage.

A dual citizen of Canada and the U.S., Holden currently lives in Atlanta where she shoots The Walking Dead.