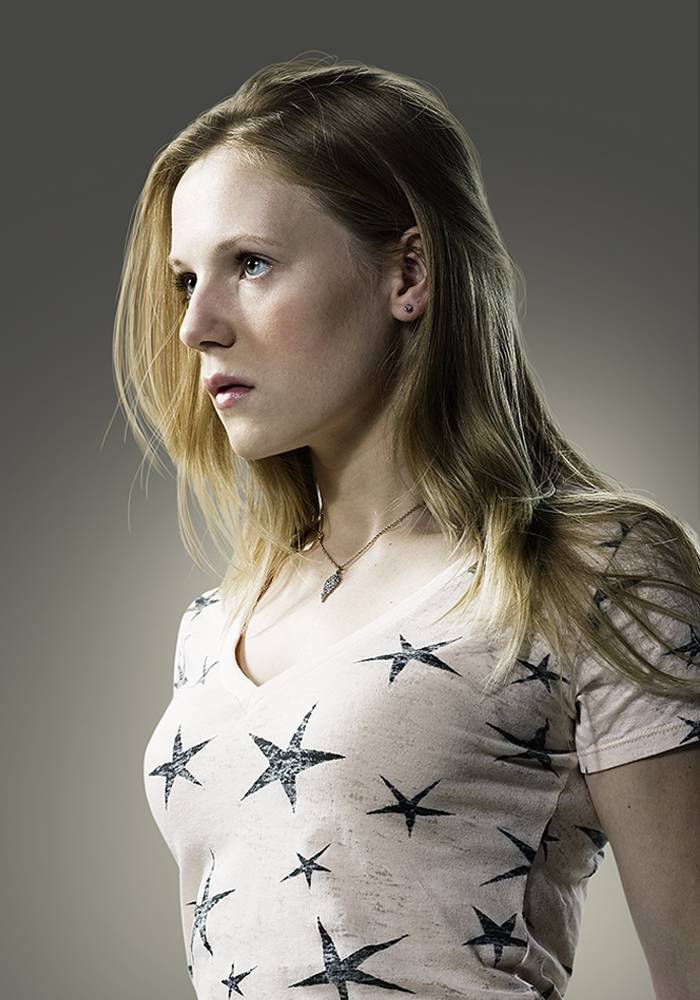 Amy and her older sister Andrea have made their home in Dale's RV at the camp. She is twelve years younger than Andrea, which causes tension between the sisters — especially given that Andrea was distant while Amy was growing up.

The experience of the apocalypse has strengthened their bond enormously, allowing the sisters to reflect on their different upbringings. While fishing in a lake near their camp, the sisters realize their father had taught them different knots based on their vastly different personalities, with Andrea's need to keep the fish, and Amy's to throw them back. The optimistic Amy wonders whether their parents were able to survive the apocalypse, though Andrea is skeptical.

Amy worships her older sister, and is protective of her. When Andrea is stranded in Atlanta and Shane refuses to send a rescue party after her, Amy screams at the camp's de facto leader, "She's my sister, you son of a bitch!"

And although Andrea is equally protective of Amy, she is powerless to help when her younger sister is bitten by a walker at the outset of an attack on their camp. "I don't know what to do," Andrea cries as Amy bleeds to death.

When Amy resurrects as a walker, Andrea is kneeling beside her. "I'm sorry for not ever being there," Andrea sobs. "I'm here now, Amy. I love you." Andrea shoots Amy in the head.

Born and raised in New Jersey, Emma Bell moved to New York City at the age of 16 to pursue her acting dreams. She attended a Performing Arts high school on the upper east side of Manhattan. After several Law & Order episodes, independent films and commercials, she finally landed the CW series, Bedford Diaries for producer Tom Fontana.

But it was her memorable turn as a German Holocaust prisoner in Boaz Yakin's 2008 Death in Love along side Jacqueline Bisset, Josh Lucas, Lukas Haas and Adam Brody that brought the critical acclaim. Death In Love, the story of a Jewish woman's holocaust past that shaped her life and subsequently the lives of her sons, premiered at the 2008 Sundance Film Festival.

Bell was later cast in Elektra Luxxe directed by Sebastian Gutierrez, alongside Joseph Gordan-Levitt, Malin Akerman, Carla Gugino and Timothy Olyphant and appeared in roles on Ghost Whisperer and Supernatural.

In the winter of 2009, Bell starred in Frozen, written and directed by Adam Green, shot in the wintry tundra of Utah. The film, about three skiers who get stuck on a ski-lift in the middle of a snowstorm, also starred Shawn Ashmore and Kevin Zegers. Frozen had its world premiere at the 2010 Sundance Film Festival.