Blog
Who Is Huck (Annet Mahendru) on The Walking Dead: World Beyond?
The Walking Dead: World Beyond is getting closer and closer. With the premiere just two months away, fans are ready for the expanded TWD Universe, including new communities, new characters, new weapons, and more.
While the communities of The Walking Dead: World Beyond live in a relative sense of post-apocalyptic security that we've rarely seen in the TWD Universe, there are still threats—both living and undead. That means some of these new characters will be deadly warriors. One of those new warriors is Huck, played by Annet Mahendru. Like Felix, she's a fighter dedicated to keeping others, including Iris and Hope safe, and she's next in our series exploring what we know about each character in The Walking Dead: World Beyond.
Watch the New Trailer for World Beyond:

Who Is Huck?
Huck is a friendly but tough-as-nails community security officer, with a warrior's spirit and a dry sense of humor. She's a close friend to Felix and a mentor to Hope, who she's been training to fight the dead. Despite experiencing some horrible things out in the world (as evidenced by the large scar across her cheek), she's managed to keep her faith in people, and it's paid off. She firmly believes that if people work together, they can accomplish great things. She still believes in the possibility that one day, generations from now, they can bring the world back to what it was. Huck is certain the world isn't over, that people are going to make it, and she wants Hope to share in her optimism for the future.
Mahendru has provided more details on her character's backstory, adding that prior to the apocalypse "she used to be a marine and was is in the sniper unit and now she's a campus security guard." That marine training really comes in handy as she's responsible for keeping the dead out of the Campus Colony.
"She is highly trained, doesn't take life too seriously, and she really wants to bring the world back to what it was at any cost. She has been out there, she has seen it all. She was in the Marines when it all went down, and she protected whoever she could and had to find her own way," says Mahendru.
One of the most important relationship's in Huck's life is with Felix. During The Walking Dead: World Beyond Comic-Con@Home panel, Executive Producer Matt Negrete called Huck, "Felix's partner in crime."
Negrete also revealed that Huck is Hope's mentor, and that she "feels a little responsible for Hope being out there and she feels like she wants to help bring the group back safely."
During the same panel, Mahendru filled in more of what happened to her character prior to coming to the Campus Colony and why she feels so close to Felix. "Huck spent a lot of time alone in the wilderness so she's very excited to join a team of people… Felix and her work side by side and they're really partners in all of this. It's a fantastic friendship and partnership," Mahendru revealed.
Mahendru's castmates have conflicting beliefs on Huck. While Nico Tortorella (Felix) calls Huck "funny," he also says she's "bizarre." Alexa Mansour (Hope) says Huck is "secretive," while Nicholas Cantu calls her "fun to be around."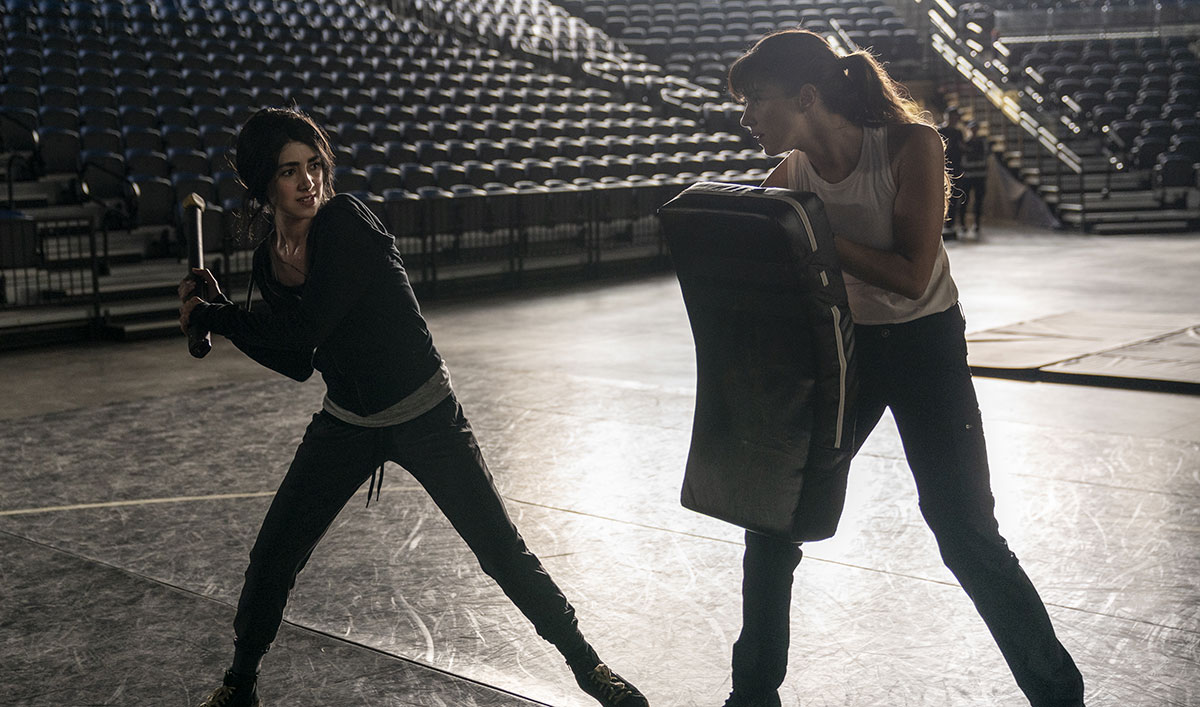 Who Is Annet Mahendru?
Mahendru has become a highly sought-after performer for both film and television. Perhaps best known for her critically acclaimed role on the Golden Globe and Emmy-winning FX series The Americans, where she played Nina, the mysterious spy opposite FBI Agent Stan (Noah Emmerich). Her portrayal of Nina earned her a Critic's Choice Nomination for Best Supporting Actress in a Drama Series, and a Gold Derby TV Award Nomination for Drama Guest Actress. She was awarded Showbiz India's Trailblazer award, recognizing her as an 'Emerging Leader' and a rising South Asian Female Actor in Hollywood.
Recently, she appeared in the highly anticipated anthology series, The Romanoffs, which was created, written, directed, and executive produced by Matthew Weiner (Mad Men). She also starred in the dystopian SYFY thriller The Slows, which marks Marvel scribe Nicole Perlman's directorial debut. It's currently appearing at international film festivals.
Annet has established a notable television resume with other credits including The X-Files, Tyrant, The Following, Lethal Weapon, Grey's Anatomy, White Collar, 2 Broke Girls, and The Blacklist.
In addition to her television work, Annet starred in the Sundance film Escape From Tomorrow, played the title role in Sally Pacholok, and appeared in Bridge And Tunnel, and Love Gloria. She was also the voice of Eva in the Penguins of Madagascar movie co-starring Benedict Cumberbatch.
On stage, Annet performed in Seven, a play about Afghan refugee Farida Aziza at the LA Theatre Works. A collaboration between seven playwrights and seven female activists from around the globe, it tells inspiring stories of overcoming adversity to effect real change and improve the lives of women.
Born in Afghanistan to an East Indian father and Russian mother, Annet spent her early years learning six languages in the Middle East and Europe. She finished high school in New York, and then earned a Bachelor of Arts in English and Philosophy at St. John's University. She then embarked on a Master's degree at NYU's Global Affairs Program. In addition to her studies, Annet was always working with stellar actors and acting troupes. Whether with a renowned Russian actor in St. Petersburg, the HB Studio in New York, the Groundlings, or Diana Castle in Hollywood she was always engaged with acting in some capacity. She's also highly trained in Mixed Martial Arts and Indian classical dance, Bharatanatyam.
Annet currently resides in Los Angeles with her director husband Louie Gibson and their son. She is part of the local charity BreastfeedLA where she advocates for the importance of breastfeeding to help families meet their goals.
Watch the World Beyond "Three Rings" Teaser:

Click here to learn everything we know about Iris and Aliyah Royal the actress who plays her.
Click here to learn everything we know about Hope and Alexa Mansour the actress who plays her.
Click here to learn everything we know about Elton and Nicolas Cantu the actor who plays him.
Click here to learn everything we know about Silas and Hal Cumpston the actor who plays him.
Click here to learn everything we know about Felix and Nico Tortorella the actor who plays him.
For trailers and more details from The Walking Dead: World Beyond, sign up for the The Walking Dead: World Beyond Insiders Club.
Read More