Uncategorized
Q&A – Jeffrey Tambor on The Trivial Pursuits of Arthur Banks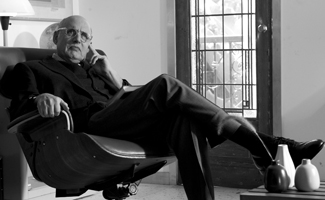 Jeffrey Tambor plays the therapist in the brand-new original short series The Trivial Pursuits of Arthur Banks. In an exclusive interview with AMCtv.com, the actor talks about the perks of playing a therapist and compares Arthur Banks with Larry Sanders.
Q: What attracted you to The Trivial Pursuits of Arthur Banks?
A: They sent me the script, and I've had this ethic since I was a young actor that if you respond to it you have to do it. I responded to this so fully. We had a good time. And when you're a therapist, you get a really nice chair to sit in. You get to put your feet up and be relaxed. It was so funny because when I saw the picture that was in one of the papers [laughs] I was making a film and somebody walked in and I was in exactly the same position in my dressing room. I said, "You see? I didn't even have to change positions."
Q: What was it like working with Adam Goldberg, playing Arthur Banks?
A: Right now I'm watching U.S. Open tennis, and Adam hits the ball back just beautifully and sends a whole spin on it. It just makes your day. He plays beautifully.
Q: There's a scene in episode three where your character looks like he is really enjoying Arthur's play. What were you thinking in that moment?
A: I just let go on it. I was worried that I was going to look like some sort of goon because I was looking at nothing. The hardest thing to do as an actor is to look at nothing and pretend. It's really an art. I gave it my all. There's an old adage that every scene is a love story. So this guy has a high regard for Arthur and wants him to make it, and that's the origin of it.
Q: Is there more to this character that you wish people had been able to see?
A: No. I thought their relationship was hysterical. I liked his cynicism. They've been through this, they've done this, and nothing gets better. Nothing. I knew that was present and people will get that immediately.
Q: This is sort of silly question, but —
A: Please, I'm a silly guy.
Q: Who has more issues: Arthur Banks or Larry Sanders?
A: Wow. I would say they go to the same elementary school. It's the same gene pool. Maybe that's my attraction — I'm attracted to supporting roles of neurotic characters. So maybe that's what I do for a living. [Laughs] In diving competitions, they call it, in scoring, the "degree of difficulty," and that's a degree of difficulty.
Q: Could you see yourself as a therapist in real life?
A: Sure. I actually — [Laughs] Yes, I can. You didn't say a good one though. Anything I could do to get close to that chair.
Q: What's the best advice you've ever been given about relationships?
A: A great teacher once told me: right now I have a lovely wife named Kasia and four children ranging from 6 to 2 years old, with 2-year-old twin boys. And I have an older daughter in her thirties from a previous relationship. So every day for me, when I get up, is like Christmas. The quote was, "Adore everything." When it's five o'clock and everyone is screaming, you go "It doesn't get better than this," even though your shoulders are around your neck. You can't get near that in your twenties or thirties. Then you get older, and you get closer to it. You're talking to a guy who is having a very good time.
Watch The Trivial Pursuits of Arthur Banks.
Read More