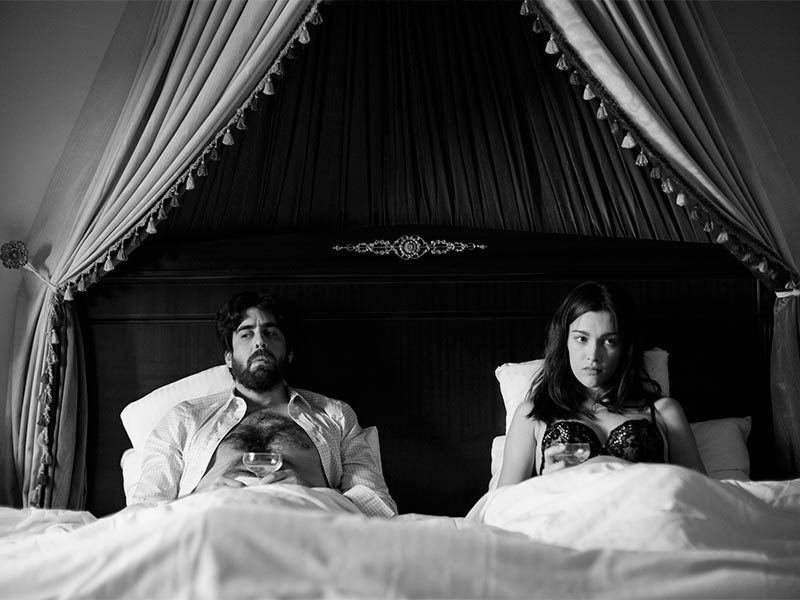 Season 1, Episode 3
The Latent Existentialist
Pressures mount as Arthur prepares to open his new play, and he finds himself in a relationship with a celibate woman.
Show Full Recap
Full Recap
As opening night approaches,
Arthur
describes to his
therapist
his celibate relationship with a student at Columbia. Holding off having sex shows maturity, Arthur reflects.
Life can be viewed like eggs, says the therapist. Optimists see the world sunny-side up; pessimists -- or latent existentialists -- see it as scrambled.
In bed, Arthur kisses the woman, Sophie, but she stops him from going further, saying that intimacy would misrepresent her inner feelings.
At the cafe with Chandler, Arthur confesses that celibacy makes it difficult to focus on work. Chandler suggests Arthur see the escort he uses.
On opening night, Arthur anticipates finally having sex with Sophie and checks into a hotel. At the theater, he peers through the curtain and sees Sophie in the audience. The therapist sits between Cornelia and Annette.
Annette and Cornelia become agitated at hearing verbatim passages of real-life dialogue and remain seated when the play receives a standing ovation. Taking his bows, Arthur notices Sophie's empty seat. In the lobby, George informs Arthur that Sophie left during intermission.
Alone at the hotel, Arthur calls the escort service. Three hours later, his escort arrives: It's Sophie.
Arthur asks Sophie why she can have sex with a "misogynistic scumbag" but not with him. Escort work involves just her body, Sophie explains, but with Arthur it's love. He must choose between love and sex.
"So which credit cards do you take?" asks Arthur.
After sex, Arthur asks how Sophie takes her eggs, and she says sunny-side up. He thinks he's a latent existentialist, muses Arthur.
At the coffee shop, Chandler and Arthur chuckle about the Sophie coincidence, though Arthur admits to being obsessed with whether or not Chandler slept with Arthur's girlfriend.
In the ensuing months, Arthur reflects on the real-life incidents that inspired his play. One day, he bumps into Chloe, now of legal age. The two hit it off immediately.
Cast & Credits
Cast (in order of appearance):
Arthur - Adam Goldberg
Therapist - Jeffrey Tambor
Sophie - Liesl Gaffney-Dawson Narrator - Larry Pine
Chandler - Peter Chekvala
Waitress - Adele Jacques
George - Barry Primus
Arthur Actor - Ryan Daniel Dobson
Understudy - Camille Cregan
Reporter 2 - Dean Chekvala
Stage Manger - David Hood
Written by: Peter Glanz and Juan Iglesias
Directed by: Peter Glanz