Press
Critics Are Raving About The Terror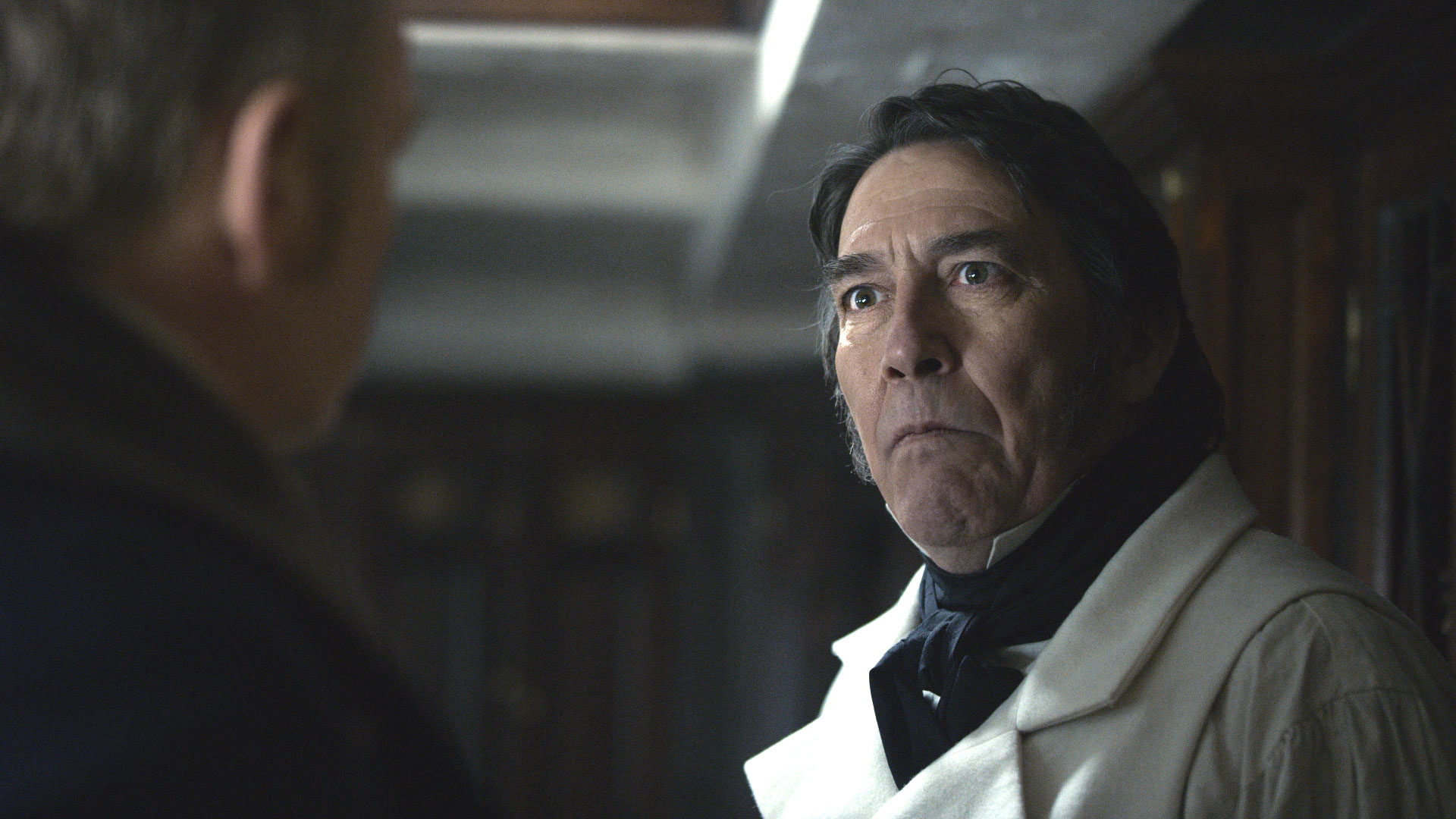 This week, Vogue, Vulture, and more commendThe Terror and its cast, while Parade interviews Tobias Menzies. Plus, Deadline reports that the show's entire season will be released at once to AMC Premiere customers. Read on for more:
• Vogue commends The Terror's "impeccable cast of British actors (Ciarán Hinds, Jared Harris, Tobias Menzies—all fantastic)" and calls the series "extremely unnerving, especially the early episodes (I've watched half of the season and am desperate to finish)."
• TV Insider marvels that The Terror is "a Masterpiece version of a classic horror movie: literate and philosophical, yet shocking and terrifically scary. Also extremely well acted."
• Glamour declares The Terror to be "graphic, gripping, and sure to be one of spring's breakout hits."
• Vulture recommends The Terror, noting that the "filmmaking pays attention to the little (often literally) atmospheric details" and that the "series does an excellent job of observing the nuances of hurt and resentment that pass among these stoic, protocol-conscious men [played by Ciarán Hinds, Jared Harris and Tobias Menzies]."
• Vox calls The Terror "a near masterpiece of survival horror, noting that "the members of the Franklin expedition encountered their own apocalypse out there, on all that ice, amid the bleary white. If that sounds like a depressing thing to make a 10-episode TV series about, well, it is. It's also tremendous."
• Reviewing The Terror, Collider calls the series"one of the scariest shows in years."
• Outside applauds The Terror as "gripping, suspenseful, and, frankly, bloody and gory. This is a period drama for the era of The Walking Dead and The Purge. It's dark and thrilling and kept me hooked through the finale."
• The Mercury News proclaims The Terror "might be your new horror-adventure addiction."
• Cleveland.com describes The Terror as "an eerie adaptation" with a "superb cast."
• "A history-infused nightmare that will chill your blood" is how Film School Rejects characterizes The Terror.
• Jared Harris, discussing The Terror with Digital Spy, explains, "There's a lot of elements of genres that it's dealing with: it's an adventure story, it's a survival story, it has a historical basis, and there's a supernatural, horror genre element to the story."
• TV Insider talks to Jared Harris, who says his character, Captain Francis Crozier, "starts to discover something about himself that he didn't know: he has extraordinary desire to survive. This is a new thing that starts to burn inside him. He becomes incredibly resourceful. He never gives up."
• Jared Harris speaks about The Terror's monster with Syfy Wire, saying, "What was most interesting was to honor the Inuit culture about it. They're not even supposed to say the name of it and we aren't supposed to know about it. It's such a sacred thing and it's so dangerous."
• Tobias Menzies tells Parade that The Terror is "definitely both an investigation of what happens to men in such an unforgiving place when such extraordinary psychological and physical pressures are brought to bear, and all the different ways that people react, and how they find out about themselves."
• Tampa Bay Times says The Terror "a well-acted prestige drama" and one that "gives much-deserved lead roles to Jared Harris, Tobias Menzies and Ciaran Hinds."
• Quartzy praises The Terror as "a compelling, old-fashioned yarn that demands to be binged—ideally curled up under a heap of blankets one snowy weekend. The 10-episode miniseries moves along at a brisk pace but never sacrifices attention to detail."
• The Globe and Mail's spring TV preview includes The Terror, which "will certainly interest a Canadian audience. It's a highly fictionalized account of Franklin's lost expedition in 1845-1848 to find the Northwest Passage."
• Screen Rant provides a "quick guide to AMC's new miniseries," The Terror.
• Horror News Network features a video of Ridley Scott saying of The Terror, "When you do a historical project, you have to speculate and dramatize based on letters and reports and whatever limited information you've got. That's where the truth starts to wrestle with fiction."
• The Ringer uses The Terror's Mar. 26 debut as a springboard to examine Hollywood's fascination with the genre of "Humans versus the Elements," asking, "What is it about pitting man against nature that is so viscerally satisfying?"
• BT TV checks out Ridley Scott's "most impressive projects," including The Terror, noting that "great things are expected from this arctic drama."
• Bloody Disgusting views a sneak peek of the Season Premiere, teasing, "Something's out there in the dark, freezing night…"
• Dork Shelf interviews Adam Nagaitis, who explains that his character, Cornelius Hickey, is "on a journey of discovery – I don't want to give too much away – but he sees every room in life. He looks for the door and looks for the next room. He never stays settled, he never just submits. He's looking for something."
• BT TV investigates the question, "Who was the real Captain Crozier [the character played by Jared Harris]?"
• Deadline reports that all 10 episodes of The Terror will be available to AMC's Premiere customers on Mar. 26, at the same time the show debuts on AMC at 9 PM.
Watch The Terror's two-hour series premiere on Monday, March 26 at 9/8c.
Be the first to see what mysteries are uncovered and get updates on The Terror by signing up for the Insiders Club.
Read More