Q&A
The Son Q&A – David Wilson Barnes (Phineas)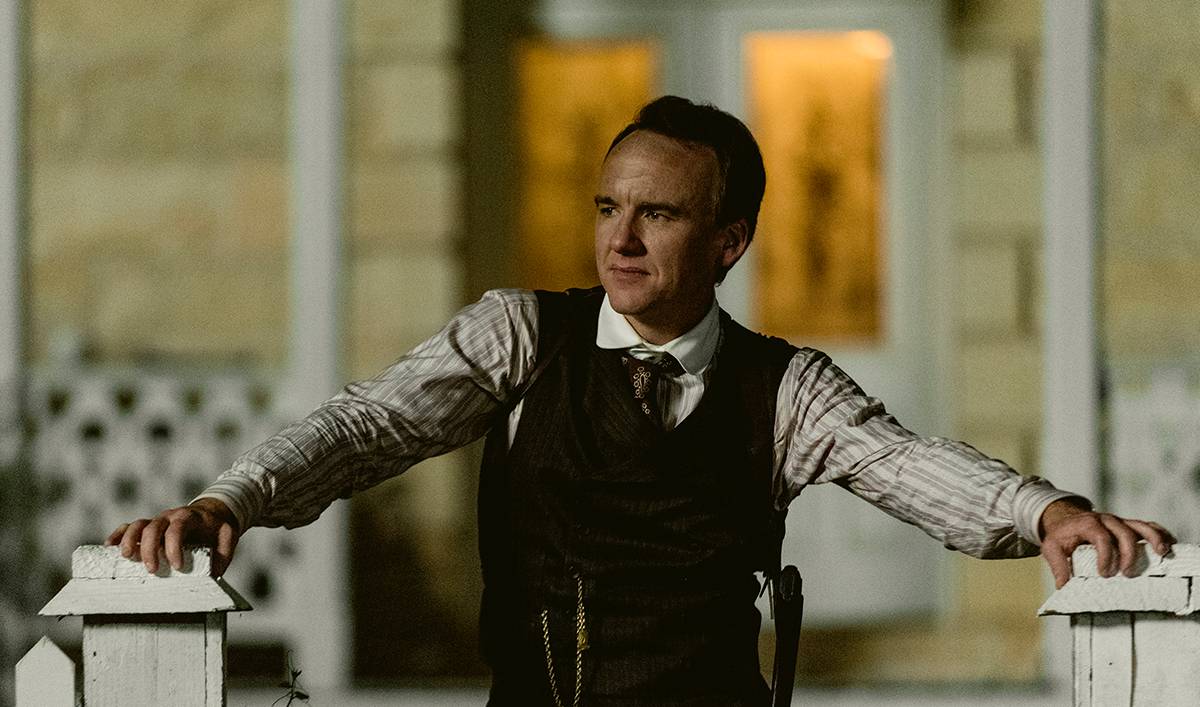 David Wilson Barnes, who plays Phineas McCullough on The Son, talks about why Phineas and Sally are so close and how his character is impacted by his identity as a gay man.
Q: How would you describe Phineas's relationship with his father, Eli?
A: I would say that their relationship is one that is built on a mutual understanding of how the world works and that there is an essential brutality to the way society functions, especially in 1915, and that to deny that brutality is to embrace an ignorance that will only end up in your demise. And I think that what is so prescient in Episode 9 is that as Phineas starts to realize that his father is losing touch with that grasp of reality — and he may have the luxury to be able to do so because he's at the end of his life, he's already accomplished a lot, he's already a legend — but Phineas doesn't have the luxury to do so and neither does the family legacy have the luxury to do so.
Q: Why does Phineas burn down Niles' tavern?
A: Phineas is taking matters into his own hands, and it was really important to me and the writers to honor Philipp's [Meyer, author of The Son and Executive Producer of The Son] book and the spirit of Philipp's book. All the characters in Philipp's book, which makes it so powerful to me, is that they all are doing stuff for a reason larger than themselves. For me, it's always been that Phineas in particular — it was always important that, whatever he does, he's doing it not only for himself but for his family. And so, in Episode 9 when he does take matters into his own hands, I think it's as much a preservation of his family and his father.
Q: How do you explain that Phineas doesn't seem as ruthless as his father yet is obedient to his father's demands, which are often ruthless?
A: If you're doing something for a larger purpose than just yourself, I believe you can accomplish anything. If you're doing something for the sovereignty of your family's ability to keep going, then I think you can do that. And I think that's actually the separation between him and Eli. I think Eli had to forge a life of self-preservation and, out of that life he forged, he created an empire. But Phineas was born into the empire — and the really big thing for me is Phineas's homosexuality is punishable by death in that environment. And so he has his love of his family, but he also has this ability to love put on the line. And I think you can accomplish a lot if you're trying to save the very essence of your life in that way. And that's why for me, Phineas has always been almost a humble character. But he's completely capable of doing what he feels he has to do to preserve his family.
Q: How would you characterize Phineas and Pete's bond?
A: First and foremost is family is the most important thing in the world to him, to Phineas. And I have a little brother, and the dynamic is really familiar to me between little brother and big brother, and I think I probably pulled some of my own life experience into this. But I think it's also in the story, that once again Phineas is incredibly protective of his family. And he understands Pete's weaknesses because of his own homosexuality, which I can't imagine he'd see as anything but a weakness because the cultural identity of being homosexual in 1915 was that of weakness. So I think that when he is thinking of his brother he sees his weakness, he forgives him for his weakness and he accepts his weakness. And he sees that Pete is essentially a person who was born 50 years too soon, if not 60 or 70 years too soon. He would have done really well in the '60's which was all about peace, love and understanding. He also knows that Pete is a vital piece of the puzzle of keeping the ranch going because Phineas couldn't stay on the ranch. He couldn't be in that environment and still be himself, so he knows that, to keep it going, Pete needs to be there. And so, within that, I think you allow a lot of leniency toward behavior. I think that, at the top of our series with our storyline, he's starting to see the cracks in Pete's behavior and he's trying to manage, trying to manage, trying to manage.
Q: What's brought Phineas and Sally so close?
A: I think it's a lot of stuff. Phineas is never going to have children. Sally is the generational link to the McCullough family moving forward in life, being able to hold onto the family and the dynasty of the family, her children. So I think that alone would make Phineas very protective of her, very protective of the children. But the fact that, on top of that, she, if not understands, she accepts Phineas for who he is. Safe harbors are so few and far between. He basically only has his father and he has Sally, and they're the only safe harbors for him to be able to be himself outside of his community, which is also hidden. So I think all those things combined just create incredible connection to her as a character. And also, on top of that, outside of the show, outside of the characters themselves, Jessica Weixler and I, we're very good friends. We just work kind of the same. It kind of fed into it as well a little bit.
Watch full episodes of The Son on amc.com and AMC apps for mobile, Xbox One, Apple TV, Roku, and Chromecast.
Read a Q&A with Elizabeth Frances, who plays Prairie Flower.
To stay up-to-date with the latest news, join the The Son Insiders Club.
Read More