Q&A
The Son Q&A – Sydney Lucas (Jeannie McCullough)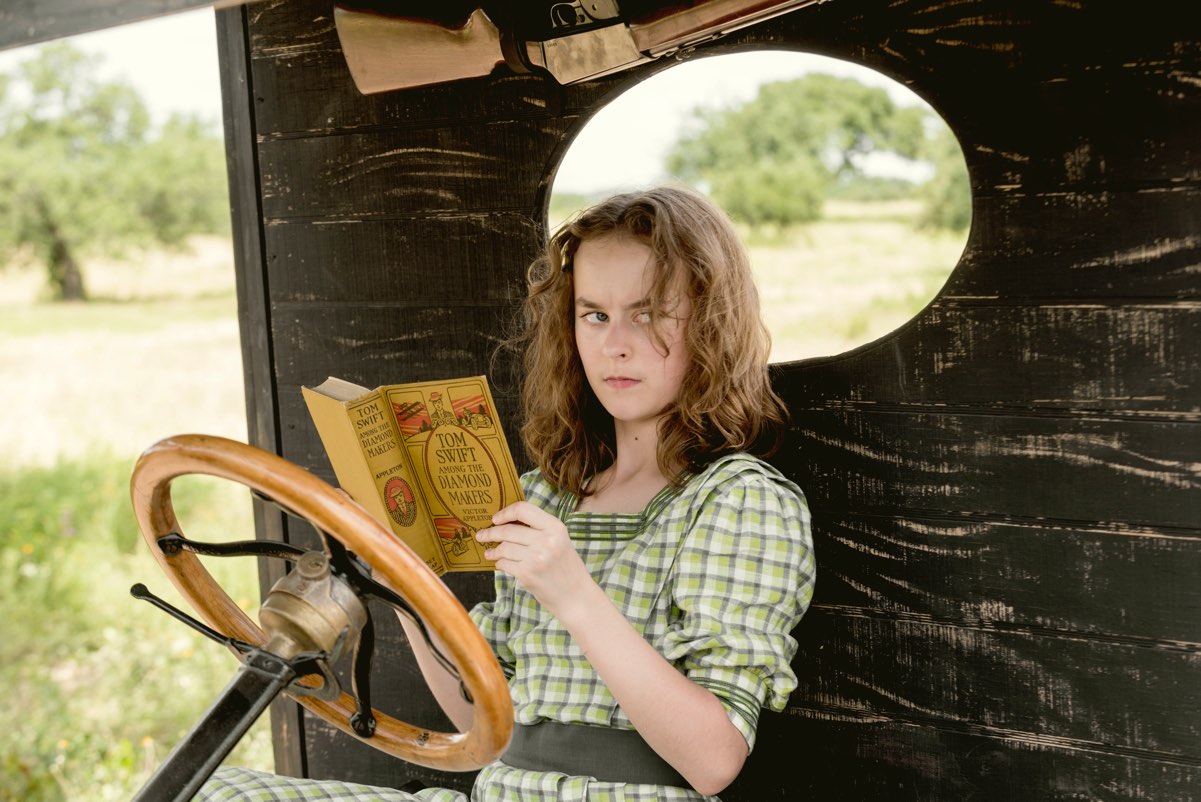 Sydney Lucas, who plays Jeannie McCullough on The Son, discusses how Jeannie and Eli are kindred spirits and what she learned from Pierce Brosnan.
Q: What is it like playing such a sassy and smart girl, especially one in 1915?
A: Well, Jeannie's a lot like me, but just in different clothes. Jeannie has two older brothers. I have two older brothers. Jeannie tells her brothers what to do. I tell my brothers what to do. Jeannie is tough, and I'm tough, too. It's not hard for me to be Jeannie, because so much of her is like me.
Q: What lessons do you think Jeannie's learned from Eli?
A: She's a lot like Eli in that they both want to protect the family, and they'll do anything they can to survive and hold on to their way of life. They're both very strong-willed. They both see through others and have good instincts. Eli shares bits of his past with Jeannie that help to mold her way of thinking. She also learns from him by viewing his interactions, whether positive or negative, with other family members or members of the community.
Q: Do you think Eli has more influence over Jeannie than her parents do?
A: Definitely. Jeannie and Eli were born with very good intuition, and they are both kind of fearless. Jeannie knows that she is Eli's favorite grandchild, which naturally makes her want to align with him. However, she does love her parents very much. It's just that she doesn't always agree with them.
Q: Do you think Jeannie understands that Eli has a very ruthless side to him?
A: I think she does through what he shares with her and what she observes. I think she knows what Eli wants for her, and Eli sees a lot of himself in her. In the beginning of the season, the adults are trying to protect her. She knows this, doesn't like it and tries her best to sneakily figure out what's really going on. So, yes, there are moments in the season where she sees the other side of her grandfather.
Q: How does Jeannie's maturity affect her family?
A: I'm sure that some of the things Jeannie finds out about are things that her parents don't want her to find out about. She's just so curious and doesn't take things for face value like her brothers. Jeannie is not naive or oblivious; she is persistent in finding out the truth. I don't feel like the brothers are the same way. Jeannie wants to know about everything that's happening, and this can be challenging for her parents.
Q: How would you describe Jeannie's relationship with her dad, Pete?
A: She acts differently with her father than her grandfather. She's very adaptable to situations and people, although at times she's impatient of others. With her father, she is a bit more polite and just nice and calm, probably because that's what her mother expects from her. And when she's around her grandfather, she's able to be more direct, bold and tough like him.
Q: What was it like acting alongside Pierce Brosnan?
A: He's really, really cool. He's a really awesome guy. He's super nice to everyone and super humble. I learned how being polite — he's super polite — can go such a long way. I loved watching him act. I loved acting alongside him because, acting-wise, I learned a lot of things from him. I started off doing Broadway, and on Broadway you have to project your voice and movement to make sure everyone can see you and hear you. When I went into TV, it was obviously a big change for me. I still had a bit of that Broadway "bigness" in my acting, and I watched how subtle he was and he didn't have to speak that loudly. It was just a very subtle movement in his eyes or something, and over the course of the season I learned to be more subtle and more of a TV actress.
Watch full episodes of The Son on amc.com and AMC apps for mobile, Xbox One, Apple TV, Roku, and Chromecast.
Read a Q&A with Henry Garrett, who plays Jeannie's dad, Pete McCullough.
To stay up-to-date with the latest news, join The Son Insiders Club.
Read More