Q&A
The Son Q&A – Pierce Brosnan (Eli McCullough)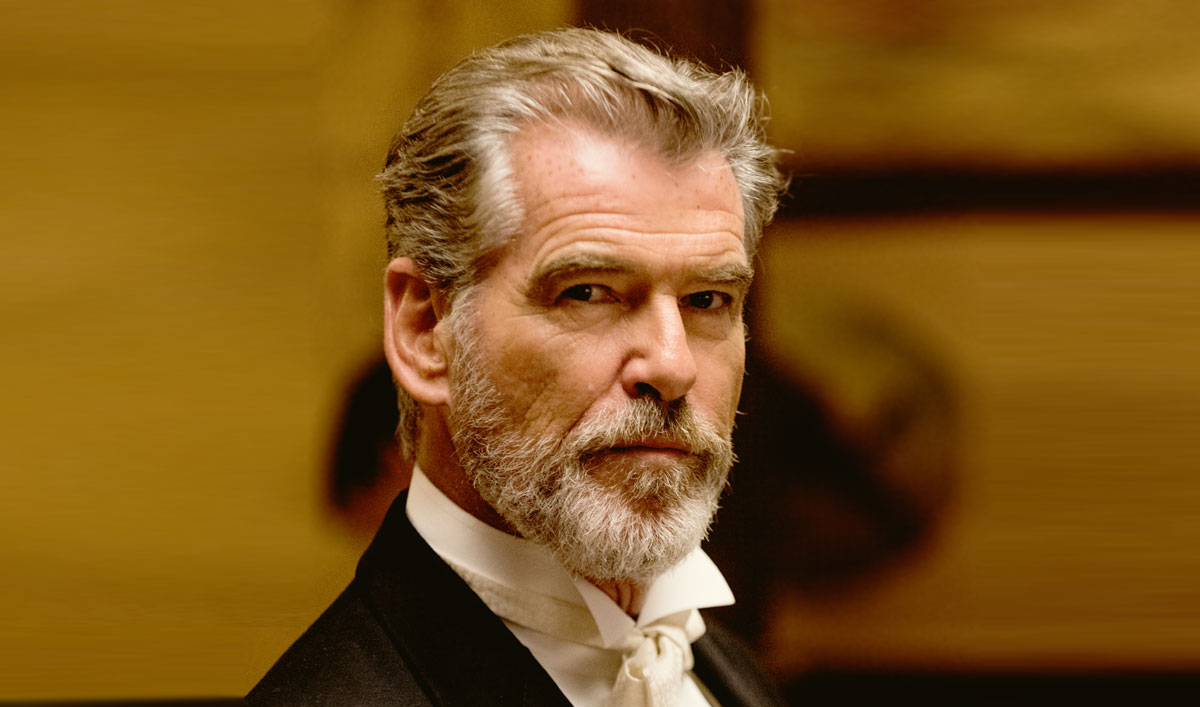 Pierce Brosnan, who plays Eli McCullough, on why his character is an American hero and the violence at his core. The Son premieres Saturday, April 8 at 9/8c.
Q: Eli is a former colonel, a father, a grandfather and a respected leader of the community. What is it about him that makes people want to follow his lead?
A: He's a prototypical American hero. He's a man that's born of violence and brutality. There's a duality to the man in the sense that his formative years were brutalized and fractured by his capture at the hands of the Comanche, so that creates a psyche which is elliptical, enigmatic and dangerous. But he's a good man too. He's a loving man, and he's somebody who cares very deeply for his family. And he's somebody who's forward-thinking. He's probably the most forward-thinking man in the family and within the community at large. He can see the change that's happening to the world around him. And so, in that regard, he's ahead of his time. He knows that he'll be the last man standing.
Q: What attracted you to this role?
A: First and foremost Philipp Meyer created this magnificent world, and I'd read the book back in 2013 when it was hailed universally by all who read it. Then last summer when my agents said, look you've been offered this role, I was already informed by the book. Then, when I read the episodes, they were so beautifully rendered into the page by the stable of writers that were in the vanguard of Philipp. All the players had wonderful street cred: the producers, Kevin Murphy, Tom Harper and AMC, who have acquitted themselves so grandly in the world of TV with such magnificent production values, which are on a scale with great feature films. It was an easy one to say yes to.
Q: What elements did you pull from the book to bring your character to life?
A: I used the book and the scripts. I used the book to read from in finding the accent. When I began to work on the accent, I listened to various people from Willie Nelson to Rick Perry, Waylon Jennings to [U.S. Representative] Ted Poe to country folk that no one knows about. So the book was always close at hand just to pick up at any given page and to read from. As I came to the project late, they knew what they were doing, and each episode that I read from week to week after the first five episodes was a revelation of where the characters were going. That was a ship that I was not going to try to steer, coming in at the 11th hour. The book was very informative in small details of gesture to Eli, but everything was in the script.
Q: Eli is a complex character. He's a family man, yet ruthless and unafraid of bending the rules. How did you prepare for such a role?
A: You just read the lines. You just play the part, and the rest is done for you. You just try and be in the moment. When you're a young actor, you try really hard to act every line and act every part. But as you get older and more seasoned and when the material is as good as the material I'm dealing with, you keep it very simple and just build each moment within its own complex way. I was surrounded by magnificent actors, and we became a very strong company together and they were so embracing of me when I joined them all. And, in return, I hope I gave of myself. And so, when you have that kind of engagement and working relationship, then you can fly. You can really just let go and trust you've done the work and that it will have some meaningfulness.
Q: Can you speak to the relationship between Eli and Jeannie?
A: He is very protective of Jeannie, and he holds her in high esteem. He wants her to be the one that will lead the charge. He worries about his sons, he loves them dearly, but she's the one that's really of the same cloth that he's cut from. She's the one that he wants to protect, and she's the one he knows will suffer the greatest pitfalls as a young woman living in the society of the day, but he also knows she's the one that has the strength and the fortitude and the wherewithal to really do good things as a member of this family.
Q: How can we understand Eli through this relationship with his granddaughter?
A: It counterbalances the brutality that he bestows on various people. You're playing with the audience, [asking] "Do you like this man, do you trust this man?" It's the joy of playing a character like this through the absolutely barbaric, medieval brutalist and then tender in the next breath with his granddaughter. That juxtaposed beside the savagery of his own childhood is the duality of the story.
Q: There's a deeper story behind Eli. How did you work to incorporate Young Eli's story into your character?
A: You see his mother raped, his sister raped, his brother savagely annihilated before him and then you start in the here and now with Eli the elder, as he stands there beside a man who's been hung at his behest. What the young Eli doesn't know is he's going to go on, and he's going to be brutalized more and more. But the older Eli, me, knows that he's traveled far down the road of life, and he will be the last man standing and he'll be the first one to throw the punch, and he knows that he has to control the violence that is in his life, that has always been part of his life.
Get a look at the new series before the special two-hour premiere this Saturday, April 8 at 9/8c.
To stay up-to-date on all the latest news, sign up for The Son newsletter.
Read More