Games, Polls & Quizzes
Share Your Favorite Quotes for More Citizens of The Village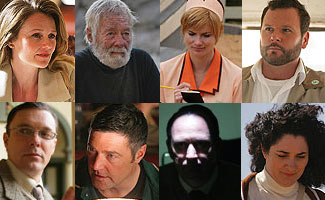 The Village wouldn't be The Village without M2 (literally). But she's hardly the only character with something memorable to say. Some of you have already posted your favorite quotes from Two, Six, 147, 415, 313, and 11-12. Now it's time to dig a little deeper and share your favorite bon mots for eight more characters:
M2 – Two's wife is infrequently awake but when she is she wants to what's up with her son, 11-12.
93 – This old man (a.k.a. The Village drunk) has an important message for Six and waitress 554.
554– The Solar Caf
é waitress is afraid of what might happen if she tells Six about the dreamers.
16 – Is he Six's brother? This bus driver sure makes a convincing argument that they're related.
909 – As an undercover, this tow truck driver is committed to finding out other people's secrets.
37927 – The Village Shop Keeper sells maps and black market items like cigarettes and knives.
1955 – Nothing the school teacher says is that strange yet 909 insists he's guilty of something.
70 / Shadow 70- Therapist 70 questions his clients; Shadow 70 sits back and reflects.
Winking Woman – This Villager shares info with Six that confirms an ocean is nearby.
Read More