Behind the Scenes
What's in a Name? Or at Least, What's in a Prisoner Episode Title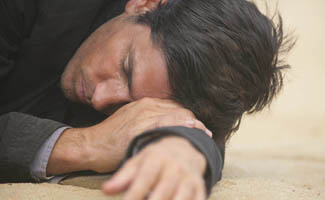 If you've had the chance to check out our Prisoner Timeline, you've already got a good idea of how Patrick McGoohan's 1967 The Prisoner series has influenced today's pop culture media and AMC's own The Prisoner miniseries. In fact, the titles of the six episodes in AMC's miniseries each borrow from episode titles of the 1967 series. Check it out:
Episode 1, "Arrival"
Taken from the 1967 Pilot "Arrival," the title refers to Six's first introduction to The Village, and his haunting realization that the arrival may not imply a future departure.
Episode 2, "Harmony"
Originating from Episode 14 of the original series, "Living in Harmony," the title of this episode looks at the Utopian facade of The Village, where every citizen supposedly leads perfectly contented and harmonious lives.
Episode 3, "Anvil"
Lifted from the original series episode "Hammer into Anvil," the title of this episode refers to Two's attempts to mold Six into Village life — much like one would use an anvil to mold metal.
Episode 4, "Darling"
Borrowed from the original Prisoner episode "Do Not Forsake Me Oh My Darling," in this episode Two tries to assimilate Six with one of the most primordial human emotions: Love.
Episode 5, "Schizoid"
Just as Patrick McGoohan's No. 6 grappled with an impostor in the original episode, "The Schizoid Man," so too must Six in this episode come face-to-face with another side of his personality.
Episode 6, "Checkmate"
Titled after Episode 9 of the original Prisoner, the final episode of the miniseries finds the battle of wits between Two and Six coming to a head, with Two making one final throw to try and checkmate his opponent.
Read More