Press
The Dallas Morning News and Britain's Telegraph Rate The Prisoner Number One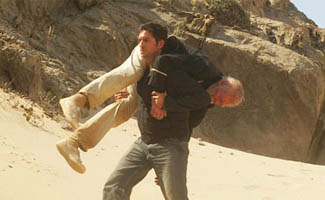 After the first night of AMC's three-night event, critics at home and abroad had much to say about The Prisoner. Britain's Telegraph.co.uk believes the miniseries succeeds in ways the original never did, while the Dallas Morning News calls it a "cutting-edge example of speculative storytelling."
• In the New York Post's feature on the AMC's miniseries, writer Bill Gallagher explains how he loved the original Prisoner's "archetypal nightmare predicament," while Ian McKellen explains that "when I read Bill Gallagher's script, I felt this had to be made."
• Britain's Telegraph.co.uk critic Rachel Ray says that AMC's reinterpretation of The Prisoner "is smart and quick, and succeeds in ways that the original did not."
• The Los Angeles Times profiles Sir Ian McKellen, during which The Prisoner writer Bill Gallagher explains what the actor brought to the role: "There's a kind of effervescence to Ian that is wonderful, and I found the possibility of that even more menacing for this character."
• In its review of AMC's miniseries, The Los Angeles Times calls The Prisoner "a handsomely mounted production," explaining that "this Prisoner is as much about Two as it is about Six."
• Talking to The Daily Beast, Bill Gallagher explains his intentions for the ending of the miniseries: "I did want a sense of resolution and a sense of climax," Gallagher says. "And I did want it to be difficult… I wanted to get somewhere where we didn't necessarily want to be."
• The Daily Beast also goes behind-the-scenes of The Prisoner with production designer Michael Pickwoad, who explains how he designed The Village with the idea of an "unreal reality" in mind.
• The Arkansas Democrat Gazette calls The Prisoner "a slick and edgy offering," that's "well worth your time."
• The Kansas City Star calls AMC's miniseries "captivating," while pointing out that unlike the original's ever-changing cast of Twos, "here the role is owned, in more than one sense of the word, by the ever-stellar Ian McKellen."
• In her review of The Prisoner, The St. Louis Post Dispatch's Gail Pennington admits that the miniseries "begins to reel us in, with far more puzzles than solutions… The miniseries could easily become an obsession to be pored over and dissected, turning 'I am not a number!' into a catch phrase again."
• TV Guide recaps the first night of AMC's three-night event, detailing the events of Episodes 1 and 2, "Arrival" and "Harmony."
• Multichannel News's Jon Lafayette calls The Prisoner a "bundle of mind games and misdirection. The new production keeps us guessing: What's real? What's a hallucination?"
• In its review, iF Magazine calls The Prisoner "A fascinating show with hundreds of questions and very few answers." Critic Emerson Parker, who wondered if this might be the next Lost, explained that the miniseries "is one big mind f—k for viewers. And I mean that in the best possible way."
• iF also ran an interview with star Lennie James, who plays The Village taxi driver 147. "I represent the guy who's most at home in The Village," he explains.
• In his TV Squad review of the first two episodes, critic Jason Hughes exclaimsd, "I'm absolutely thrilled that I have so many questions and that I have no idea what's going on. I'm becoming more and more convinced they're going in an entirely different direction than the original even while sharing so many elements with it, and I appreciate them all the more for it."
• NPR interviews The Prisoner's Number Six, Jim Caviezel, during which the actor says that working with Ian McKellan is like a fencing match: "If you're off-balance, one moment off-balance, he's gonna take you and throw you down."
• The Boston Herald also interviews Caviezel, who explains what attracted him to the miniseries: "In this day and age, a lot of what you see is so spelled out," Caviezel says. "This is an allegorical piece. Hopefully, people will at least get that much."
• Dallas Morning News calls AMC's miniseries a "cutting-edge example of speculative storytelling," assuring the reader that "The Prisoner is a beautifully strange and strangely satisfying experience."
• SciFi and TV Talk's Blog interviewed writer Bill Gallagher, who explains what terrified him about reimagining The Prisoner: "It was the scale of the task. It is such a mind-boggling concept. I knew I couldn't just make a conventional drama built on conventional structures."
Read More