Press
USA Today, New York Daily News and Variety Have Prisoner Fever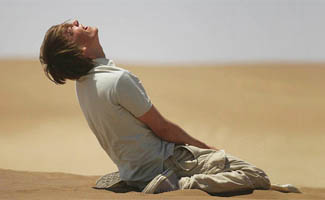 Reviews for The Prisoner are starting to pour in from newspapers and websites across the country. Critics are calling AMC's miniseries "stylish," "smart," and "arresting." At the same time, publications like USA Today, iF Magazine, WWD and SFUniverse continue to run profiles of actors Jim Caviezel, Ian McKellen and Jamie Campbell Bower.
• USA Today ran a feature on AMC's miniseries in which writer Bill Gallagher describes the allure of the "Kafkaesque notion of the world" in the original series while Ian McKellen explains the moral dilemmas with which the new series grapples: "What is [Six] trying to escape from? Why does he want to escape? Who is running the place?"
• The Buffalo News reviewed The Prisoner, giving the miniseries three stars out of four and declaring it "a strange, mind-blowing adventure."
• The New York Daily News called The Prisoner an "ambitious, enhanced and stylish remake," claiming that "Hard-core fans of psychological science fiction and Orwellian horror will find plenty to hold their interest."
• WWD ran a profile on Jim Caviezel in which they describe the actor as a "man of the old-school mold," and The Prisoner as "equal parts scifi-thriller and existential meditation."
• Newsday ran a review of The Prisoner, in which critic Verne Gay calls the miniseries "smart and ambitious," explaining that "It's filled with deep thoughts, deep meaning, cultural allusions and comparisons galore."
• io9 has posted a sneak peek clip from Night 2 of The Prisoner, in which Six helps someone drop off the body of a "dreamer."
• Wired.com and TheOneRing.net spotlighted AMC's Prisoner timeline, which illustrates the enduring influence of Patrick McGoohan's original series. Wired also pointed to AMC's new Prisoner graphic novel, the first chapter of which is online now.
• Variety remarks on The Prisoner's "striking images and arresting moments," praising the supporting performances of "[Hayley] Atwell and Ruth Wilson ("Jane Eyre") as the women in Six's orbit, Lennie James ("Jericho"), and Jamie Campbell-Bower as Two's rightfully confused son."
• Channel Guide Magazine ran a feature on Jim Caviezel and Ian McKellen, in which they claim Bill Gallagher's reimagining of the original Prisoner "promises to be bigger, faster and — dare we say — better."
• The Toronto Sun published an interview with Jeffrey R. Smith — who plays Number 16 in The Prisoner — in which the actor praises his co-star Ian McKellen: "Ian was… exciting for me," he says, "just because of who he is. He is just the sweetest, kindest man, and generous of his time and his spirit."
• IndyWeek's review of The Prisoner hails Ian McKellen's ability to drop "his smiling grandfatherly facade for a hard, scary demeanor in a beat-perfect instant when it's clear to him that he's not getting his point across," while praising the storytelling of director Nick Hurran and writer Bill Gallagher. "By the end of its brief run," writer Danny Hooley claims, "you may find yourself wishing that AMC's The Prisoner had been fleshed out to a full season or series."
• Movieline ran a Q&A with star Jim Caviezel in which the actor explains how he embraced the strange story like a dream and how his motorcycle crash reminded him of The Prisoner.
• The Philadelphia Daily News says The Prisoner "looks marvelous, even if its desert-like location is initially… less appealing to the eye than the original Village," and claims that McKellen's "menace with a nearly perpetual twinkle in his eye is the best reason I can think of not to try to escape The Prisoner."
• SciFi and TV Talk's Blog ran an interview with Ian McKellen in which the actor discusses Two's family and why he thinks the new miniseries is so compelling.
• The San Jose Mercury News calls AMC's miniseries "off-beat and creepy," while noting "a magnetic supporting performance by Ian McKellen (when is this man not magnetic?) and lavish production values."
• iF Magazine ran an interview with Jim Caviezel in which The Prisoner star talks about his character's journey and his wish that he could have met the original prisoner, Patrick McGoohan.
• PopStar interviewed Ian McKellen, during which the actor praised his on-screen son, claiming, "Jamie [Campbell-Bower] is absolutely adorable," and that "He can be my son any day of the week."
• SFUniverse talked to actor Jamie Campbell-Bower (11-12) about The Prisoner's cinematic qualities, the differences between shooting in Swakopmund and Cape Town, South Africa and what it's like to have Ian McKellen as a father ("It was terrible!" he joked.).

Read More