Uncategorized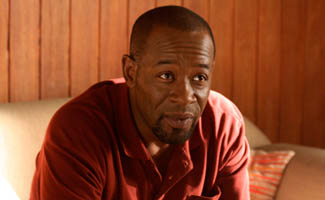 The star of Jerichoand Snatch discusses his steep learning curve as a taxi cab driver and explains what it's like to shoot a miniseries in Southern Africa in AMCtv.com's exclusive interview.
Q: What did writer Bill Gallagher tell you about 147?
A: Bill said that 147 is the epitome of The Village. He's the man who has found happiness and contentment within the confines and the rules — where you can go and where you can't go, what you can say and what you can't say. He has found his place and he's that guy until Six gets into his taxicab and completely turns his world upside-down
Q: As Six tends to do.
A: As Six tends to do, which is slightly annoying. [Laughs]
Q: That seems the exact opposite of your character in your other scifi series, Jericho.
A: Yeah, they are on opposite ends of the scale. Robert Hawkins in Jericho was a guy who knew more than everybody else — people lived their lives according to the decisions that he made. 147 is a man who is not in the slightest bit aware of what he is capable of doing, and not somebody you would necessarily go and stand next to in a crisis. But he's a man who in his own way reaches levels of bravery, I think.
Q: You've been in several shows that deal with surveillance and government spying. Are you a conspiracy theorist?
A: It's completely coincidental — I'm not a conspiracy theorist. Mostly I don't give the people who are in positions of power the credit to be smart enough to come up with the conspiracies. I just think if you were going to come up with a conspiracy you wouldn't come up with the ones that theorists think exist — they're just silly, really. But I think asking questions, challenging people's perceptions and looking for the truth in these situations are things that are very important.
Q: 147 goes through a father's worst nightmare in losing his child. As a father yourself, how did you prepare for that?
A: It was just about allowing myself to open that particular door, because it is your worst nightmare and it is ever-present. And once you open that door, what wouldn't you do? You'd jump in that hole, why wouldn't you? And for me the decision was about not just jumping in to save your child, but jumping in because whatever has happened to her you want to happen to you. I would rather not carry on than carry on as a person who has lost their child.
Q: What was it like to shoot in Africa?
A: I'm going to be honest with you: I've filmed in Africa a few times before, and this was a very strange situation. We were filming in Southern Africa with all of its history, and then on top of that we were filming in Swakopmund, which is left over from when the Germans had colonized — the town existed as a holiday for the German people. That was a strange place to be as a black man in 2008 — I don't think I was in a social situation outside of my apartment and work where I wasn't the only black person in the room not serving. And that's an odd thing when you consider you're in an independent African country. I'm glad we went there, but I have to be honest and say that it wasn't for me the easiest time.
Q: How did you enjoy driving a taxi?
A: It was better for me than it was for Jim because Jim's quite a tall guy and he had to sit in the back seat, and there just really wasn't enough room. So he had to contort his body in the strangest way in order to make it look like he was sitting comfortably, which was very amusing to me. But it was not an easy car to drive: This particular car had three gears and reverse was usually where first is, so there were a few times where I took off planning to go forward and ended up going backwards. People on the set took great amusement in how badly I drove it. [Laughs]
Q: What do you think the number 147 means?
A: It's the highest break in snooker. If you continually put a red and then a color and then a red and then a color all the way through and you don't stop, the highest points you could accumulate are 147, and that's about as much as I think is relevant for the character, which is a long way of saying I don't think the number has any relevance at all.

Read More