Uncategorized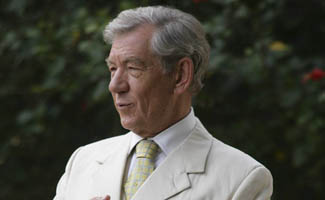 The two-time Oscar nominee discusses the similarities between Two and Tony Blair, the novelty of playing a family man, and whether or not he'd make a good Villager in AMCtv.com's exclusive interview.
Q: What attracted you to The Prisoner?
A: Well I'd seen the original, and not been an avid fan but thought it was very stylish and amusing and to the point — the point being, I suppose, an ironic critique of preoccupations in the '70s that people had with socialism or the end of the Soviet system. If you're going to revise that story then you can't just copy what was originally done, because we have different preoccupations these days. And for me, it wasn't just a question of coming on as "Ian McKellen, The Villain" and doing a turn as an enigmatic benevolent monster. It's much more complicated than that, and that's what appealed to me about the script and about the part. Then when I met everyone involved, I got on with them so it seemed too good to be true really.
Q: You've played a lot of villains in your career. Do you think Two deserves that label?
A: I never think of any of them as villains. There may be villainous — they do things that are extreme and other people don't approve of — but their motives are usually admirable. Magneto wants to cope with the difficulties thrust upon him by society and by his own nature. And Two — Six thinks he's villainous; you might think him villainous when you see him, but he doesn't think he's villainous. Tony Blair is not a villain, but he's played the part very well. You know he's a good man who wants to make the world a better place, and I think Number Two is the same — not that I'm playing Tony Blair.
Q: What's your favorite aspect of Two?
A: He generally had very good lines. No matter what he was doing, or what he thought he was doing and why he was doing it, there was generally some meat. I kept feeling I'd played the part before somehow — I may have played aspects of him. But I think the family scenes were the ones that I hadn't done before, so I liked those.
Q: You actually rarely play characters that have families.
A: Gandalf doesn't have a family, that's right; Magneto has a series of wives but they never made their way into the movies. It's true, they're all loners aren't they? That's very interesting. What does it mean? The other day I was looking at some pictures that I've got hanging up in the hallway here — they're all very different styles that appeal to me, and some are better painted than others, but they are all part of my life and I realized the other day that they've all got a road in them. Whether the road is leading into the picture or out coming out towards me I have no idea, but there it is. I'm just a lonely person plodding along the road. [Laughs]
Q: If The Village is Two's idealized world, what would your Village look like?
A: My Village is my life, my friends. I don't feel trapped by them, but perhaps I am. I'd probably fit into a Village very nicely — actors always adapt, you know. A lot of us do that in little ways every day just to fit in, and what's admirable about Jim Caviezel's character is he doesn't fit in — it's not his temperament.
Q: What will you personally take home from The Prisoner?
A: I took home Two's hat. It has a Number Two on it and gold on the band, so that's what I took away with me. That, and lots of friends.

Read More