Press
Crowd at The Prisoner Comic-Con Panel Proves Not Everyone Is Trying to Escape The Village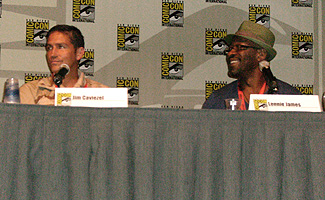 Not everyone is trying to escape The Village. The Prisoner's Comic-Con booth, #3721, has had long lines of fans waiting to get their picture taken for their own personalized Village ID card. (Those who receive them are also eligible to enter a contest for Palm Pre phones by tweeting, "You only think you're free" followed by their unique Village ID number.) Also free for the taking: A Prisoner Marvel mini-comic, and buttons bearing classic Prisoner slogans like "Be Seeing You" and "I Am Not a Number." But the big highlight of The Prisoner's presence at the Con, was, of course, Friday's Prisoner panel.
The standing room only discussion drew a huge crowd of
rabid fans. Those who made it into Room 6BCF were treated to nine
minutes of footage from the six-part miniseries. On the panel were
actors Jim Caviezel (Six), Lennie James (147), and Jamie Campbell-Bower
(11-12), as well as writer Bill Gallagher and AMC Vice President of
Production Vlad Wolynetz, along with moderator Rob Meyer Burnett.
If there were any doubt that this audience was completely stoked for the new Prisoner,
all you needed to hear was the sonic boom of applause that went off
once the ominous, spherical Rover appeared onscreen for the first time.
As the footage played on, it was clear that this series has remained
faithful to its '60s forebear. Certainly, the premise is the same: A
man wakes up in a mysterious place — The Village — from which he
cannot escape. Many of the themes that are addressed in this miniseries
are true to McGoohan's original vision. As writer Gallagher
noted, "We continue to be prisoners of society," a sentiment that will
be familiar to longtime fans of the show.
Caviezel revealed that he first became aware of the project when there was a
glitch in financing for a movie he was due to start shooting. Once he
was sent the script for The Prisoner, it was a "no-brainer," — the miniseries is "such a part of what's going on in the
world today." Another element that drew Caviezel is his
love of science fiction. A fan of classic franchises like Star
Trek and Star Wars, he responded to both the themes and the quality of
writing in The Prisoner scripts.
Gallagher stressed that he wasn't trying to repeat what McGoohan had done — rather, he was responding to it. He further explained that this miniseries takes into account all that's happened in the world since the 1960s heyday of the original series. For one thing, Gallagher noted, "The individual is king. We're all desperately asserting our individuality." Gallagher's take on the series also addresses the universal theme of hope, as Six is constantly railing against impossible odds.
James, aka 147, noted his character is very content with life in The Village — until he meets Six. (One of the differences between this re-imagining and the original Prisoner series is that this miniseries gets inside the heads of the other Village denizens, like 147.) James also revealed that during the shoot, whenever anything strange would happen, they'd say, "That was very 'Village.'"
Wolynetz noted that McGoohan himself was aware of the miniseries; he'd been contacted about playing a cameo role, but couldn't due to fragile health. Shortly afterwards, McGoohan passed away, but before he did, he gave his blessing to the script.
Campbell-Bower plays Two's son, 11-12. This of course is a change from the original series, in which a) Two was played by a variety of actors, and b) we barely knew anything about Two's personal life. Campbell-Bower explained that when he was a teenager, his teacher showed him the original Prisoner series. And when he received the script for the reinterpretation of the Prisoner, he found it "really moving." When asked by moderator what it was like having Magneto as his father, Campbell-Bower responded that he feels blessed to have learned from someone like Sir Ian McKellen.
All in all, this new Prisoner is guaranteed to have an epic scope, and Gallagher confirmed that there will be a sense of resolution at the end of the miniseries, as opposed to the ambiguous and surreal ending of the original. Or as Caviezel put it, "To me it's a six-hour movie, with two intermissions."
Read More