Behind the Scenes
Q&A – Kate Rhodes James (UK Casting Director)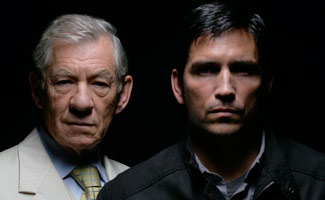 Kate Rhodes James lets us in on The Prisoner casting process and her thoughts on group chemistry.
Q: How did Ian McKellen get cast as Two?
A: Two is a really iconic role. It was a huge responsibility to get it right and we wanted an international star. Someone mentioned Sir Ian McKellen for Two and we all thought it was a terrific idea. So we sent the scripts to him and due to the fact that the scripts were utterly sensational, he was onboard.
Q: And Jim Caviezel as Six?
A: As soon as Jim's name came up, everyone started to get really excited because he's got a fantastic enigmatic quality about him. Jim is one of those smart actors who has managed to remain mysterious to the audience, which was essential for a role like this. We contacted Jim's agent and it helped that we had Sir Ian McKellen on board.
Q: Are there any U.K. actors in The Prisoner who will be new to U.S. audiences?
A: Hayley Atwell and Ruth Wilson — who both have great futures in front of them — are somewhat known here. I cast Hayley in her first professional job which was The Line of Beauty, the TV adaptation of the novel for BBC.
Q: What was your casting process for The Prisoner?
A: How I decide whether I'm going to work on a project is defined by how many thoughts spring to mind when I'm reading a script. For me, it's completely instinctive. I will then present my ideas to the producer and director in a meeting backed up by photos, CVs and examples of their work if they are not known to them. It's great when you suggest someone that no one has heard of, and they trust you and then cast them. That is extremely satisfying.
Q: When you were looking for actresses to play opposite Jim, did you think of yourself as a matchmaker?
A: I go with who is right for the part. Clearly when there is a sexual tension, you absolutely need to take that on board. But that happens naturally when you find the kind of actress who is comfortable in her own skin and therefore, is attractive and sexy to everyone.
Q: How good are you at predicting chemistry?
A: You know what? I don't think anyone is. I think when you go out to deliberately find people that click with each other, you will end up with nothing. Nine times out of ten when everyone has said, including me, "Oh that's going to work," it doesn't. Don't forget Moonlighting with Bruce Willis and Cybill Shepherd: They loathed each other but their chemistry was stunning. In fact, when actors don't get on — that's when you get extraordinary fire.
Read More