Coraline Author and SciFi Editor Are Big Prisoner Fans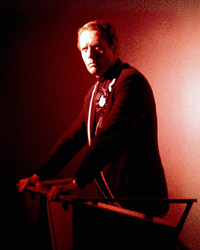 Who loves The Prisoner from the 1960s? Novelist Neil Gaiman (American Gods) and Hugo Award-winning editor Ellen Datlow, that's who.
Gaiman, a New York
Times bestselling author whose Coraline (2002) recently made it to the big screen, recently blogged about the old series, saying The Prisoner was "such a part of my mental landscape growing up" that as a teenager he "collected all three of the Prisoner novels, just
to try and get back to the Village." Later, in the 1980s after watching The Prisoner again, Gaiman thought "they were just as good, and as odd as I had remembered."
Ellen Datlow, editor of over 50 anthologies in fantasy, scifi, and horror added when asked what she liked about the old series, "I can tell you in five seconds. I was a
kid. I loved the mysteriousness of it and I thought Patrick McGoohan was adorable!"
You can check out all the original episodes here so you can see what Gaiman's
talking about.
Read More