Uncategorized
The Prisoner Cast and Crew Reflects on Production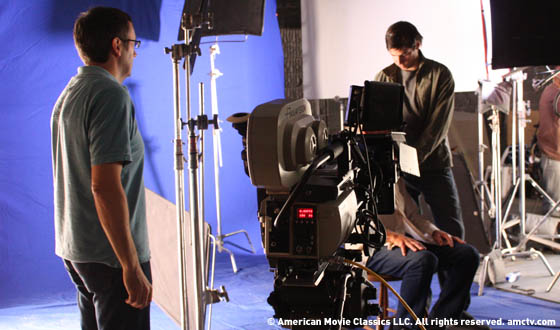 Kerrin Kokot, AMCtv.com's multimedia producer, shares cast and crew recollections from the set of AMC's The Prisoner.
The Prisoner is well into post-production and cast and crew are dispersed across the globe. And yet, as I sift through the mountains of footage from the set, I can't help but reflect on our last night together, just after director Nick Hurran called it a wrap and the production team went mad: Costume standby Gizelle Abrahams remarked, "I feel like it's the end of school!" Script-editor Frances Flannery added, "It's certainly been a big adventure for everybody."
That night I asked a few other members of production about their experience:
Hayley Atwell (4-15) on her toughest scene
"The hardest has been running through the desert in a dress. It's difficult to run in sand anyway, but then when you're in heels in the heat… it's special."
Jim Caviezel (Six) on the mini-series
"It is gutsy. I think this is going to be one of those things people turn around, look at each other and say, 'Did you… My God, did you see what we just saw?' I can just imagine what it was like when Walt Disney had his idea of Disneyland and people first experienced it. I think they're going to experience this in the same way."
Michael Pickwoad, Production Designer, on the look of the show
"Designing The Prisoner was both a demanding and exciting challenge, not only filming in the remarkable deserts of Namibia, but also in carrying the responsibility of maintaining the Village look in all the appropriate settings. The architecture and colors of the sets really create an amazing rush for the viewer… they take on a magical charm."
Craig Swanepoel, Caviezel's stand-in, on his experience
"I've learned a lot coming off this set — lighting-wise, laying tracks, all that type of stuff. And I've formed great relationships with everybody. It's simply been a pleasure."
Trevor Hopkins, Producer, on the various shoots
"They've all been fantastic! There hasn't been one bad moment!"
Sir Ian McKellen (Two) after viewing some early scenes
"Very pleased. Very."
In Gandalf we trust! I have thoroughly enjoyed being a fly on the wall of this energetic miniseries. See you all at the premiere!
Read More