Uncategorized
The Prisoner Production's Greatest Hits, Vol. II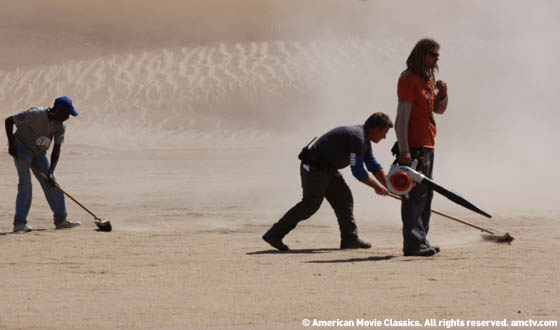 Kerrin Kokot, AMCtv.com's multimedia producer, discusses some of her favorite photos from the production of AMC's The Prisoner.
Three weeks after production wrapped and I'm still sifting through photos. Fortunately, most of them are a riot. Take for example the picture of our on set art director, Storm Dyssel, and his team sweeping the desert. When I first arrived in Namibia and saw this, I couldn't believe my eyes. Every new location came attached with Storm and his trusty broomstick. Of course the job makes perfect sense — Storm needs to sweep cast and crew footprints away so that the desert sand seems untouched for the shot. But before you think of the obvious reason for his presence, the act of sweeping the desert sand clean is utterly ridiculous.
Another fond memory the photos have triggered is from Cape Town's Bijoux building, home to The Prisoner's nightclub set. For spoiler reasons, those pictures will have to stay under wraps for now, but let me paint you a picture of my own: Two "dancing extras" were asked to come show their moves in the club. Little did they know that they'd be kitted out in saucy little outfits and caged. The extras — one of whom did a varsity project with me years ago — laughed when they realized that they were to be strippers, not belly dancers. They didn't remove any clothing, of course, but they moved with an intent that got the point across. Suffice it to say, this production isn't The Prisoner you remember.
Stay tuned for more memories from the set. Be seeing you.
Read More