Games, Polls & Quizzes
The Prisoner 1960s – Which Episode Ranks the Highest?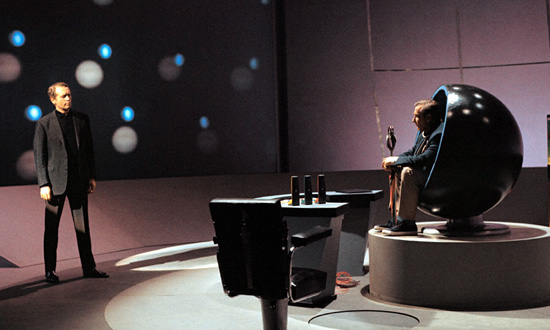 Which episode is your favorite from the 1960s series? Vote in our poll and feel free to tell us your reasons in the comments section below. Here's a quick recap…
Episode 1: "The Arrival" – After handing in his resignation, No. 6 heads off to his London home to
pack for a holiday. He begins to feel faint and
awakens in The Village.
Episode 2: "The Chimes of Big Ben" – The Prisoner has a new next-door neighbor who tells him that
The Village is situated on the Baltic. They decide to escape.
Episode 3: "A, B & C" – In an attempt to discover why No. 6 resigned from the Service, the new No. 2 uses a wonder drug to tap into his foil's subconscious.
Episode 4: "Free for All" – No. 6 participates in the election as the new No. 2 finds out that there's little freedom of speech.
Episode 5: "The Schizoid Man" – Efforts are made to split No. 6's personality and make him believe he is someone else.
Episode 6: "The General" – No. 6 must discover the identity of the General and thereby prove that knowledge is not wisdom.
Episode 7: "Many Happy Returns" – No. 6 succeeds in getting back to his London home now inhabited by a Mrs. Buttersworth.
Episode 8: "Dance of the Dead" – Death lurks amid a carnival, and No. 6 is put on trial when he makes an audacious bid to outwit his captors.
Episode 9: "Checkmate" – No. 2 uses a "queen" as the pawn in a human chess game aimed at breaking No. 6.
Episode 10: "Hammer Into Anvil" – No.6, seeking to avenge the death of a persecuted girl, plays a cat-and-mouse game with No. 2.
Episode 11: "It's Your Funeral" – No. 6 is tricked into "discovering" an assassination plot. But who is going to be killed?
Episode 12: "A Change of Mind" – No. 6 is the subject of a sinister plan to change his mental processes by sound waves and drugs.
Episode 13: "Do Not Forsake Me Oh My Darling" – No. 6's mind and personality are transmitted into another man's body.
Episode 14: "Living in Harmony" – No. 6 is tricked into becoming the Sheriff. Can he be forced into carrying a gun?
Episode 15: "The Girl Who Was Death" – No. 6 acts out a fairy tale and meets a girl who is a born killer.
Episode 16: "Once Upon a Time" – No. 6 faces a ruthless interrogation, taken to the extreme degree.
Episode 17: "Fall Out" – No. 6 comes to the end of his nightmarish adventure.
Read More