Uncategorized
Ian McKellen's Blog – Bijou Cinema, Gandalf's Bar and Table Mountain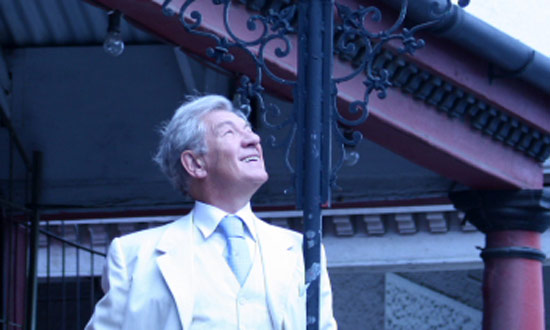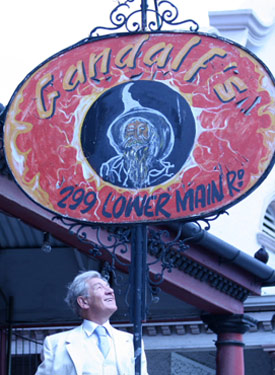 Ian McKellen will play Two in AMC's forthcoming miniseries, The Prisoner. His diary entries from the set during filming and production will appear periodically in The Prisoner blog.
Cape Town houses The Prisoner's Village, at least some of its interiors, in the Waterfront Studios and at a few locations elsewhere. My favourite has been in the Observatory District, where workers' shabby one-storey houses huddle against factories and workshops of light industry. One of these, an armoury where Conrad fashions wrought-iron sculptures, is housed in the disbanded auditorium of the Bijou Cinema, recently a nightclub until fire closed it down. This stands in for The Village club, where Two's son relaxes away from family life.
The outline of the old cinema was scarcely hidden behind curtains and decorative pieces of hardboard. If you looked up, you could see the slope of the circle, and if you climbed up the side stairs (where we filmed), you could eventually look down on where the screen must have once been. It felt fitting to be filming there.
Opposite the Bijou is a bar for Goths and young punks who have misplaced their ID. No questions asked at "Gandalf's"! There was a sketchy portrait of him hanging outside. Just up the street was "Mordor", which is a perverse name for a club where you might hope to enjoy yourself! I think I'll give it a miss.
Friends assume I'm having a whale of a holiday in the summery sunshine,
and on my free days, it does feel that I am. I've made a trip to the
wine country and climbed Table Mountain and, best of all, Jamie Bower
and I drove one Sunday lunchtime to a dusty village called Darling,
where the comedian Pieter Dirk Uys lives and works in his intimate
supper-theatre house within the old railway station. Pieter's alter-ego
Evita Bezuidenhout is a formidable dame who is gradually adjusting to
post-apartheid politics and has her audiences howling with recognition
as she expresses her new-found liberalism, whilst casting aspersions in
every direction. No one can escape her canny eye. In the old station
there is also an informal but unnerving museum with apartheid
memorabilia ("Whites only" placards eg): lest we forget.
Back in
Cape Town, in the upper reaches of the old Mutual Insurance building
where inner-city gentry now live, we also filmed some scenes that take
place in New York City. New York? What have they done to The Prisoner?
I'm not allowed to spoil it for you by telling, even if I knew it
all. But I can confide that Nick Hurran has encouraged considerable
re-writing as the end of shooting approaches. Bill Gallagher's team
have been flown out to see us and present a few ammended scenes that
will transform the final episode and, I hazard, have you begging for
more. There have been some extra speeches added to my part but Ruth
Wilson's has been greatly expanded in all directions. Her reward will
be to be kept behind in Cape Town after most of the rest of us have
left for London and the holidays!
Read More