Uncategorized
Production Diary Week 9 – Blowing Up Swakopmund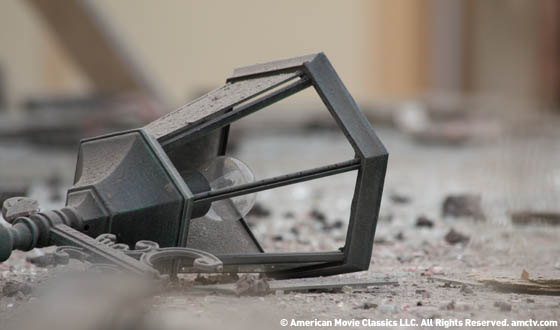 Kerrin Kokot, AMCTV.com's new multi-media producer, discusses the ninth week of shooting in her production diary.
Don't let anyone tell you the Namibian desert is hot. While the rest of Africa's southern continent is baking into spring, here it is overcast and cold. Fortunately, things are heating up on the set of The Prisoner. On Monday afternoon I watched a crew of stunt men get blown up in a cloud of pyrotechnics. While they seemed quite happy to be treated like sand bags, I couldn't help but worry for their safety as bodies, glass and bottles of ketchup were blasted in the middle of suburban Swakopmund. Happily no one was injured, and the fireworks display ended with a round of applause from locals and crew alike.
The stunt men aren't the only ones pushing themselves to extremes. We shot a scene last Friday that involved actress Rachel Blake rolling around in the dirt in nothing but her pajamas — she somewhat improbably made the spectacle look elegant. Then on Sunday, actor Jeffrey R. Smith braved swimming in the freezing cold Atlantic ocean with a cheery face that belied his own personal discomfort (and the fact that his character was about to encounter something quite terrifying).
I'm sure we're all looking forward to leaving such oddities behind as we move to proper studios in Cape Town at the end of the week, which will mark a transition into the final stages of production. Stay tuned for news from South Africa's mother city in next week's entry.
Read More