Uncategorized
Production Diary Week 11 – Half Way There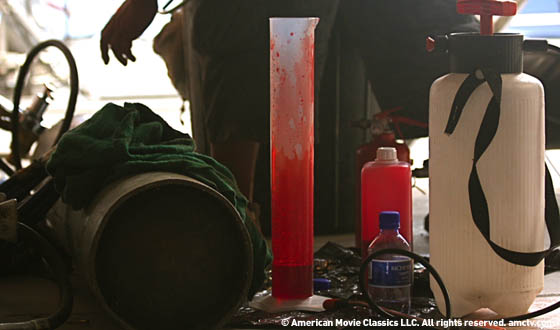 Kerrin Kokot, AMCtv.com's multimedia producer reports on the second week of shooting in Cape Town.
Production of The Prisoner has passed the half way mark. When director Nick Hurran realized they had reached the 1,000th slate, he asked the crew to order champagne. Exhausted, splattered with mud and fake blood, cast and crew were delighted to take a break from studio shoots to enjoy the warm, spring evening in Cape Town toasting polystyrene cups filled with bubbly.
Meanwhile we shot on location this week at the Monwabisi Resort, a beach destination neighboring Cape Town's biggest and youngest township, Khayelitsha. Shooting started at 4PM (with "breakfast" being served at 3PM and "supper" at 10:30PM) then finished the following morning. The ocean chill and unrelenting wind reminded me of Namibia, and the quaint houses looked spooky in the gaffer's giant moonlight rig. These film crews are tough — nothing seems to worry them. I'm guessing if they weren't shooting movies, they'd be into fighting wars or at the very least, participating in extreme sports.
Back home in the city, sets are being reconfigured, built and decorated in preparation for this weekend's next bout of shooting. I've got to say, the lighting in these studios makes for a spectacle, especially when you place Sir Ian McKellen and Jim Caviezel amid the smoky beams… Keep checking the blog for more!
Read More