Uncategorized
Production Diary Week 10 – Surfing, Seals, Sharks and South Africa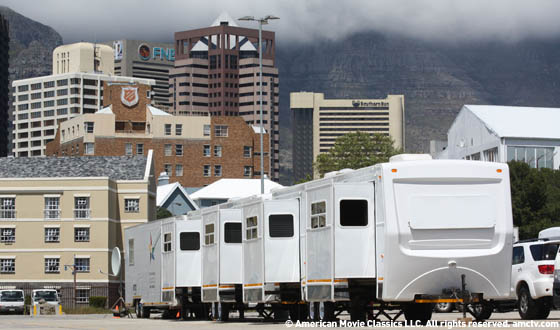 Kerrin Kokot, AMCtv.com's multimedia producer reports on the first days of filming in Cape Town.
The Prisoner has entered South Africa! Exhausted cast and crew were relieved to leave the harsh terrain of Namibia and travel to the luxurious shores of Cape Town. Actor Jamie Bower hit the waves as soon as he landed, surfing on the (slightly) warmer side of the city — Muizenberg bay. He saw a dark shape hurtling towards him in the waves and immediately remembered that these waters are the feeding ground of the Great White Shark… At the last minute the shape burst out of the water and did a very un-shark-like somersault. To his relief, the shape was a seal: cute, fat, friendly, and far from being a man-eating fish.
Production started on Monday at Waterfront Studios, on a tastefully
decorated set 90 feet long, 45 feet wide and 24 feet tall. Next door,
behind thick sound-proof walls, two more sets were being built, painted
and cleaned up, ready for the cast and crew to move in by the end of
Wednesday.
Sir Ian McKellen and Jamie Bower have been having a lot of fun
together in the studio, laughing and kidding around between takes. Next
week we'll be traveling to Worcester, a small, green town about an
hour's drive inland from Cape Town. More news to follow.
Read More