Uncategorized
Ian McKellen's Blog – A Tour of The Village and Palais Two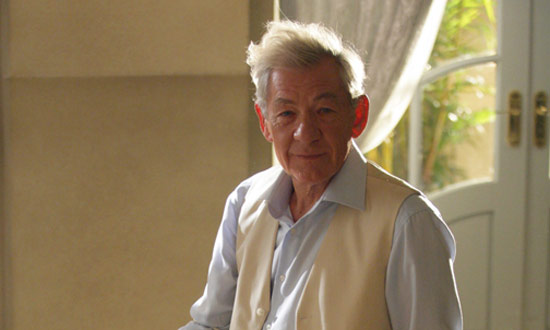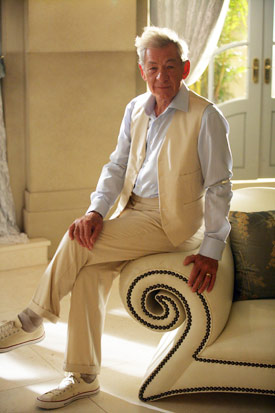 Ian McKellen will play "Two" in AMC's forthcoming mini-series,The Prisoner. His diary entries from the set during filming and production will appear periodically in The Prisoner blog.
As we come to the end of our Namibian shoot, there is hardly a corner of Swakopmund that hasn't been used in the retelling of The Prisoner.
The fictional Village Shop that sells only maps is actually a corner emporium where you can buy for real anything second-hand, from old postcards to washing machines and used clothes.
The Palais Two, where my character (and his family) lives, is in reality the biggest hotel in town and once the railway station. We had intended to shoot scenes in the hotel forecourt doubling as Two's gardens but our schedule changed and these will now happen in the Cape Town studios.
My first glimpse of The Village before rehearsals was a striking photo of the A-frame holiday chalets on the outskirts of town, which are too regimented for comfort. In reality they are just as unprepossessing, not made any less so by a huge poster of Two declaring the opening of "More Village", an image that would be a telling advert for the series if hung aloft on Sunset Boulevard.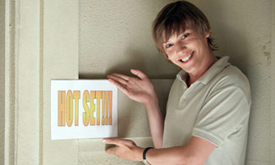 The quirky Solar Café, where momentous events propel the story along, is actually an imported set but looks so in keeping with Swakopmund that some entrepreneurial local asked to buy it as a souvenir of filming. As it has now been destroyed during the action, that wasn't possible.
Tourism to Swakopmund may never be the same again. There have been a number of international feature films shot here recently against the desert landscape. Apart from The Prisoner, there is rumoured to be a Bollywood musical larking among the dunes, but we have had neither sight nor sound of it. As The Prisoner has been shooting in the town as much as the sand, viewers of the series may well want to check out for themselves the realities of The Village location, much as Portmerion attracted fans of the original series.
After completing other films I have kept (or been given) mementoes of the sets. I have the panels from the underground assembly room in Richard III. I have the keys from Bag End and Gandalf's sword. I have James Whale's easel and paintbrushes — though these are the genuine articles, bought on Ebay. What to retain from The Prisoner? Two's tie-pin? one of the Village logo's? a bottle of black pills from the safe?
You might tell from my posts that I am no spoiler, so revelations about plot and character are few. All I can promise is that hidden within this dispatch is mention of something so vital to understanding what The Village is all about, I'm surprised that I've been allowed to mention it….
Read More