Uncategorized
Production Diary, Week 7 – Another Number in The Village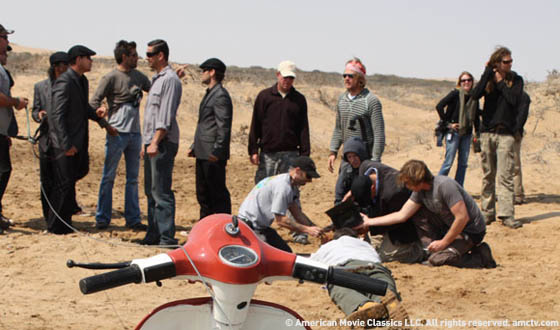 Justin Kirschner fills in for Philip Francis in this week's Production Diary.
Out with the old, in with the new: You may have heard Philip call me his "capable assistant" a few weeks ago, but while he recovers from surgery in Cape Town, it looks like I'll be the number-one guy here in Swakop (not the character One, of course, but you get my drift).
A lot has changed in Swakop over time: When I was last here, eleven or twelve years ago, the country was just gaining its independence. Now it's a tourist destination — it looks good, it's safe, and (most importantly for this time of year) it's warm. It's a fantastic country, and my first impressions of The Prisoner are likewise complimentary.
There seems to be a lot of energy on the set. The new director, Nick Hurran, seems extremely precise and, more importantly, moves quickly. He's working fast, and his enthusiasm has spread to the cast and crew. We've begun to do some reshoots out on the sand dunes, but, thanks to the pace, no one seems to mind much. I watched an amazing stunt sequence the other day involving 30 or 40 extras in downtown Swakop and a stunt man who had to do a bit of traffic dodging. Let's just say it looked quite realistic, with stunt men flying through the air, doing somersaults, and landing in the dust. This week has really been spectacular — every day we're in a new location.
Next week, we'll be continuing with a fair amount of reshoots, but spirits are high. As for me, I'll be attempting to interview Jamie Campbell-Bower (who plays 11-12) and Ruth Wilson (who'll be 313). The interviews should be fun, casual conversations, sort of like these diaries. Until then, enjoy the footage I'll be sending your way. Cheers.
Read More