Uncategorized
Production Diary Week 5 – Hobbled, But Kicking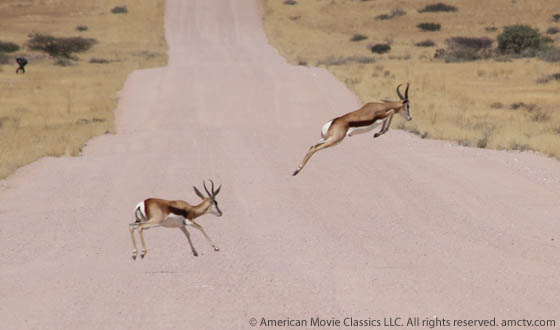 Production this week hit the ground running after a week-long hiatus. I, on the other hand, did not. I wish I could say that I injured myself skydiving or quadbiking, but alas, it was on the tennis court that I ruptured my anterior talo fibular ligament. Luckily no surgery was needed, but I'll be on crutches for the next few weeks and relying on the capable services of my assistant Justin, who arrived from Cape Town yesterday. The rest of the cast and crew are in good spirits, with production currently slated to go through December here and in Cape Town.
This week also saw the arrival of our long-awaited missing cast member, Sir Ian McKellen. My first impressions of him? What a gent. Though I was hobbling on crutches for his first day of shooting, a friend of mine who was in Swakop shooting a Bollywood movie that was shut down for a day (the rumor being it may have been connected to someone in the Namibian government embezzling millions) was able to help me capture the action. I can't give you too many details, suffice it to say it involved long johns and a very happy and comfortable Ian — he prefers "Ian" to "Sir Ian," by the way — taking the crew's amusement in stride.
We still have stacks of good stuff to shoot in and around Swakop, and I can't wait for my leg to heal so I can join the rest of the crew properly. The local cable here is total crap, and I hope never to have to watch it again.
Until next week.
Read More