Behind the Scenes
Ian McKellen's Blog – Gandalf Hats and Golfing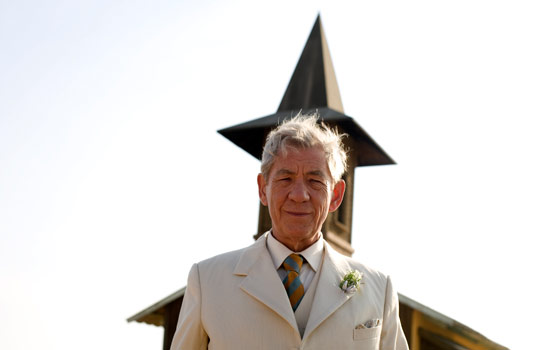 Ian McKellen will play "Two" in AMC's forthcoming mini-series,The Prisoner. His diary entries from the set during filming and production will appear periodically in The Prisoner blog.
A century ago, when they occupied the desert land northwest of South Africa, just south of Angola and east of Botswana, the German colonialists needed a fishing centre and founded this place at the mouth of the Swakop River: hence their name for it, Swakopmund. Previously the locals had called it "Excrement Opening", if Wikipedia is to be trusted.
Once Namibia became independent in 1990, Swakopmund was established as its "premier holiday resort", a genteel hideaway for those wanting to escape the heat of the Namib Desert and relax in the milder temperatures afforded by the daily sea-fog, which rolls off the Atlantic and across the road that separates my apartment from the ocean. From my balcony, it looks dangerous and I've yet to spy any intrepid swimmer or surfer gambolling amongst the breakers. Swakopmund is the largest town in the country after the capital Windhoek, and there are holiday homes galore but not much to be done here, at least on a conventional vacation. A "what to see" brochure lists the star attractions as "Prison", "War Memorial" and "Martin Luther", who turns out to be a museum for a steam engine named after the Protestant reformer.
Those actors who were working here before me have already explored the local fun — sailing with dolphins, cuddling seals and snapping the inhabitants in Etosha's game park up north. One day Jamie Bower and Lennie James invited me to join them careering up and down some mighty sand dunes in 4×4 vehicles from "Daredevil Enterprises". I said I'd prefer to go with a firm called "Absolutely Safe". So we settled on a sedate guided tour inland along the dry riverbed between sun-parched mountains, granite stubs of the world's most ancient heights. There we met a 800-year-old cactus flat on the earth waiting for its daily dampening.
I'm not working every day, so what does one otherwise do in Swakopmund? Well, I've joined the gym to do my twice-weekly stretching exercises. I've attended costume fittings at the main hotel, which used to be the railway station and will soon stand in for Number Two's home in The Prisoner. I am driven on my expeditions for fresh fruit and general provisions by my ever-attentive "chaperone", Peter Owens from Cape Town, where he is a tour guide. And mostly I've stayed indoors learning my lines to the accompaniment of the ocean's swash.
Everyone I meet who lives here loves the place and its quietude which must have appealed to Angelina Jolie, as she chose to give birth nearby a couple of years back. Most of us on the film are also foreigners, from Europe and South Africa, but we seem agreed that Swakopmund is a congenial place to visit, though we shan't much regret having to leave eventually! The Villagers from The Prisoner would fit in here, a settlement which feels somewhat like the end of the world and not much like the beginning of anything. Out of sight of the main town is a township, a remnant of the decades of South African rule under apartheid, where we will not be filming.
What initially caught the practised eye of Michael Pickwoad, our production designer, was the prevailing architecture of Swakopmund — Germanic, stolid, old-fashioned and quirky. It suggests the heavy hand of a controlling vision. I was at once intrigued by the pointy steeples that adorn many public buildings like so many Gandalf hats. Michael has erected some extra facades of plywood and plasterboard to augment the genuine buildings. These fit in so well that that there have been requests that they should remain when the filmmakers have retreated. Perhaps there are hopes that Swakopmund might become known as the "The Village", which could be at least as interesting as "Martin Luther".
And so to work. My first day began early with Peter picking me up at 5:45 a.m. for an hour's dawn drive to base camp. Peter used to be a champion motorcyclist and likes a bit of speed. It was unsettling racing toward the rising sun over the endless, featureless wastes of sand. Our destination was a lonely half-derelict Moravian chapel with, yes, a Gandalf steeple. Within, my character would await a confrontation with Number Six, played by Jim Caviezel. Seemingly as calm as I was nervous. Jim's practised rapport with the camera was reassuring. After a year spouting King Lear's rhetoric across vast theatres, it was comforting to speak at a human, rather than a thespian, level once more.
My main problem was a familiar one when filming. I was starting out, not at the beginning of Number Two's story, but more than halfway through — in the critical fifth episode — where he is behaving well out of character. I tried not to be too tentative and kept asking for reassurance from Nick Hurran, the other new boy, who amazingly managed to present a convincing overview of events, despite having only joined the team days earlier.
In the afternoon more actors arrived, speaking and non-speaking, inhabitants of the Village attending a wedding. Which couple was getting hitched must wait till you can watch the show. I accompanied the bride in a yellow convertible and a pale yellow suit, a panama sheltering me from the sun. Later in the week we filmed a funeral — it's all go in the Village!
My second day shooting, I was out golfing with Jamie Bower — and they call this work! He and I needed lessons on driving and putting on the local course where there is so much sand that the players have to carry around their own square of grass turf for teeing off. I've never quite understood the "straight arm when you are swinging the club" but Eddie, the local golf pro, was encouraging and I managed to drive my ball 200 metres when the camera was running. I very much hope my lucky prowess makes it into the final cut.
On the crew's day off, the UK producer Trevor Hopkins cooked local fish at his seaside flat, and on his laptop showed me a few rushes of my first days' work. What I saw looked like a feature film — ingenious camerawork from Florian Hoffmeister and direction to match. The Village seems to be coming to life.
For more of the latest news and writings from Ian McKellen, visit his official website.
Read More