Uncategorized
Ian McKellen Blogs From London Before Heading to Namibia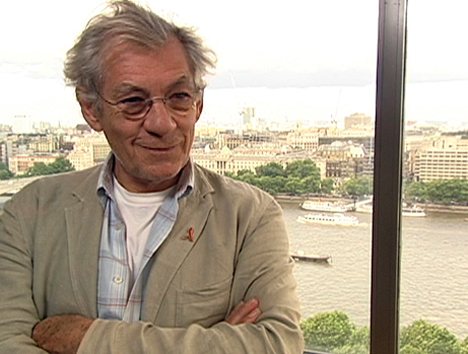 Ian McKellen will play "Two" in AMC's forthcoming mini-series,The Prisoner. His diary entries from the set during filming and production will appear periodically in The Prisoner blog.
As the millennium turned, I was in Middle Earth filming Lord of the Rings. On my website I started a sporadic diary called "The Grey Book", and inadvertently helped invent blogging although back in 1999, such
cyber experiments were not appreciated by everyone.
For instance, New Line Cinema were very nervous that any inside information about their films should reach the public, except through their own publicity department. I thought that policy was short-sighted, as there was a multitude of Tolkien fans longing for news who deserved to be encouraged. I often reassured Tolkien admirers that they must be prepared to welcome Peter Jackson's version of the novels or, if not, go and make their own film. I had to agree
to submit my blog to NLC before posting it.
Peter, much more savvy online than I was, carried on regardless of the studio's constraints with his own regular comments online. He even courted the rumour-mongering Ain't it Cool News, then thought to be every studio's potential bane, by inviting its prime critic to Middle Earth. A special chair was built to seat the mighty Harry Knowles close to the filming action. Thus the fan-base was informed directly about our progress on set.
I much prefer publicity which is informative rather than sensational or bland – so here I am blogging again, though this time at the invitation of this site, where I can be found over the next three months of filming The Prisoner.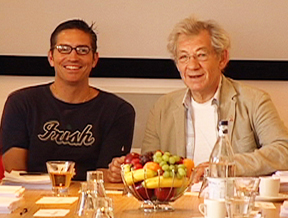 The original ITV series, starred Patrick McGoohan who created the story with George Markstein in 1967. There were 17 episodes of which I saw only a couple first time round. Google identifies numerous support groups for the cult classic. Like them, I admire Patrick McGoohan's acting as "Number 6" but I also cherish memories of his stage performance as Ibsen's Brand, which is available on DVD. I hope he takes this new version of "The Prisoner"
as a compliment rather than a challenge to his great achievement.
Our director Jon Jones has cast the charismatic Jim Caviezel as "Number 6"and it was exciting to meet him on 30 July, when the producers from AMC treated a few of the creative team to dinner at the Century Club in London. The following day was the first read-through of the six hour-long episodes, on the 14th floor of the ITV centre, next-door-but-one to the National Theatre on the south bank of the river Thames. Not all the actors were present, as at least half of them live in South Africa where much of the filming will take place in late August to November. In attendance were the
hierarchy of AMC who are following their success with Mad Men with another adult television screenplay in association with ITV in London. I hope they
weren't disappointed!
Apart from the director and producers, the writer Bill Gallagher was there at the far end of the long refectory table where we all sat. I couldn't see him clearly and I doubt he or anyone near him could catch all the tentative mumbles and whispers of the cast as the hours rolled by. Read-throughs are nerve-wracking for the actors, still unfamiliar with their roles and so not much willing to commit to any sort of performance and yet, we feel being somehow judged by our employers. But by the end, the room was full of enthusiasm (as well as relief) and some kind soul started a round of genuine applause.
What was obvious was that none of us had misjudged the scripts. Bill has written his heart into the story, which is at least as gripping as the one on which it is based. More than that, it's difficult to add without spoiling your eventual enjoyment of the show. The Village remains, though no longer in Wales where McGoohan railed against his imprisonment. Number 2 (my part) is still in charge, though I'm glad to report no longer played by a number of actors. As for Rover and the rest, you will just have to wait and see.
For a week now, rehearsals have continued with Jon Jones explaining the wondrous complications of the thrilling episodes as the actors start the journey toward inhabiting their words and
characters. Through the windows we have a privileged over-view of London spread out below like a model, too high up to notice the tiny traffic and people. The roofs of buildings ancient and modern are predominantly grey and the river is muddy brown. As we analyse the nature of the fictional Village
and its lucky or luckless inhabitants, it's worth pondering what is going on inside those offices and nameless buildings of the capital. In some, perhaps, there are prisoners who the authorities want to hold for 42 days without charge…
For more of the latest news and writings from Ian McKellen, visit his official website.
Read More