Uncategorized
Production Diary Week 1- Actors and Dust Storms Arrive in Swakopmund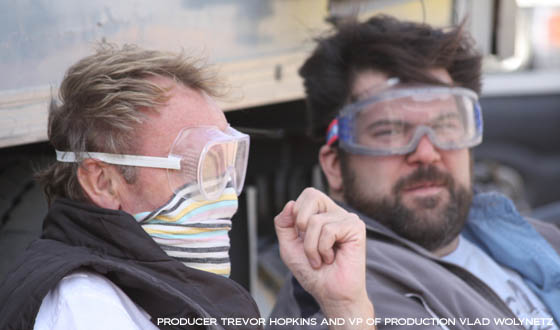 Philip Francis, AMCTV.com's multi-media producer, discusses the first week of shooting in his production diary.
The first day we arrived, gale force winds stirred up a vicious sandstorm that at times was so bad you couldn't even open your eyes. This pictures represents only a lull in the storm that allowed me to shoot without fear of ruining my camera. There was sand everywhere, and the winds even managed to destroy an outdoor set that had to be rebuilt before filming could resume. The second day was still very windy, although it came in from the nearby mountains and was much colder. They say it blows here only three or four days a month, so we just happened to catch those days.
The town of Swakopmund is very strange for this part of Africa. It was a German settlement and that feeling remains today. But it's also an extreme sporting destination, with people who sandboard, surf and dune bike. It's a coastal holiday resort transplanted from another universe.
I feel very much removed from the outside world. The town is technologically about fifteen to twenty years behind. They've never even heard of Mac computers here. We also feel separated from each other, with each member of the cast and crew for some reason staying in different buildings all over town. I was a last-minute addition to the crew, and thanks to that, all the cheaper places were full, and I find myself resting in a palatial suite. It's quite fantastic, actually.
The cast has thus far been slow trickling into town. While Jim Caviezel has been here pretty much every day so far, other principles are just now arriving. Ruth Wilson, who will play No. 313, arrived yesterday to film a scene with Jim. Sir Ian, however, doesn't arrive for ages — about six weeks time — and we're all looking forward to it.
Conditions have made production extremely difficult and dangerous, and my impression is that at this point people are just trying to get through the day. Stay tuned.
Read More