The Original 1960s Series in a Nutshell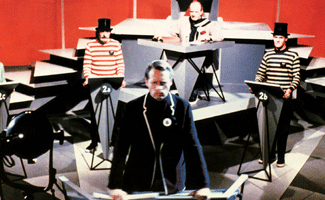 A secret agent resigns, is abducted and then awakens in a strange town known simply as The Village. He's been assigned a new name — No. 6. The man-in-charge of the place seems to be someone called No. 2. Why No. 6 has been brought to The Village is never made clear — except for No. 2's vague demand for "information." Which side No. 2 represents is also unclear, especially since the person holding the position is constantly changing. And who and where exactly is the omnipotent No.1?
Created by star Patrick McGoohan and head writer George Markstein, The Prisoner ran for 17 episodes from 1967 to 1968. Whereas most TV series advance a linear storyline over the course of a season, The Prisoner took a different strategy by employing a uniquely elliptical narrative. In each episode, one of two plotlines occur: No. 6 tries to escape (but fails) or he's subjected to some kind of torture/interrogation. Either way, the status quo remains the same by the closing credits: No. 6 is still imprisoned in The Village; No. 2 is still in control. The fact that the episode order is often in dispute — since episodes were sometimes broadcast out of sequence — only underscores the unimportance of a conventional through line.
This constant repetition also serves to heighten the show's pervading sense of paranoia. Everywhere, he goes, No. 6 is observed by cameras; everyone he meets is a possible double agent. Co-conspirators in No. 6's escape plans are bound to betray him or suffer dire consequences. In the pilot, "The Arrival," a former colleague jumps out a window to his death. Or so it seems. By episode's end, we see that the former co-worker has faked his suicide and is about to leave for a new assignment. In "Dance of the Dead," No. 6 is put on trial for possession of an illicit radio so he calls another former colleague as his witness. But when that man is brought forth, he's been lobotomized. "Checkmate" finds a frightened scientist selling out Number 6 because he believes No. 6 works for Number 2; in "The General," Number 2's assistant, Number 12, aids Number 6 only to be killed by a massive computer (which short-circuits when No. 6 feeds it the one question it cannot answer: "WHY?") No one can be trusted.
Sometimes the enemy is not without. It's within. There's nothing that will mess with your head more than looking in the mirror and seeing someone else, and there were not one — but two — episodes where this happened. In "The Schizoid Man," No. 6 awakens to discover that he has a mustache, black hair and everyone is calling him "No. 12." Meanwhile, in "Do Not Forsake Me Oh My Darling," No. 6 finds his mind transplanted into another person's body, and vice versa.
An overwhelming sense of futility becomes most pronounced in the episodes where No. 6 mistakenly believes that he's gotten to the outside world. In "The Chimes of Big Ben," No. 6 goes so far as to escape, get to his old office in London, and talk with his former superior… only to discover that they're not in London at all, but rather an elaborate facsimile created within The Village! Similarly, in "Many Happy Returns," No. 6's escape is reversed when his attempts to prove The Village's existence only land him back in the same plight. A surreal variation is provided by "Living in Harmony," where No. 6 finds himself transported to the Old West. After a gunfight, he awakens to discover the entire event was staged. Even the Old West is part of The Village.
True to the times, hallucinogenics also come into play. In "A, B, and C," an experimental drug is used on No. 6 to see into his dreams and discover why he resigned. Somehow, even while unconscious, No. 6 manages to outsmart his captors. In "A Change of Mind," No.2 has No. 6 declared "unmutual," then dopes him with personality-altering drugs.
No. 6's resilience shows strongest in the first part of the finale, "Once Upon a Time." In desperation, No. 2 pits himself against No. 6 in the ordeal Degree Absolute. No. 2 regresses No. 6 to childhood, then takes him through the various stages of his life over the course of a grueling week. In the end, No. 6 returns to his normal self — and No. 2 crumbles. In part two of the finale, "Fall Out," No. 6 finally meets the elusive "No.1," a masked, hooded man. When No. 6 unmasks No. 1, he sees… himself. But is it a hallucination? Or a clone? Or something else?
That would be telling.
Arie Kaplan is a longtime contributor to MAD Magazine who writes for film, TV, animation, and comics. He recently wrote the comic book miniseries Speed Racer: Chronicles of the Racer for IDW Publishing. He is also the author of Masters of the Comic Book Universe Revealed! (Chicago Review Press). His new book, From Krakow to Krypton: Jews and Comic Books, will be published by JPS in fall 2008. Please check out his website, www.ariekaplan.com.
Read More