Unscripted
The Pitch Q&A – Scott Markman (The Monogram Group)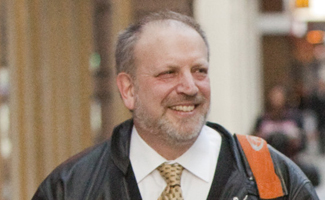 In the Season 2 Finale of The Pitch, The Fuller Brush Company chose The Monogram Group as the winning agency. Monogram President Scott Markman talks about his relationship with his partners and having the same idea for a tagline as the competition.
Q: What made you decide to have The Monogram Group appear on The Pitch?
A: A few reasons: First, we just thought the experience would be a gas — this was like beer stories for ten years, just diving into the journey and the creative challenge. The second reason was the opportunity to gain a lot of exposure for our agency in ways that we couldn't replicate without blowing gigantic amounts of money, along with the prestige that comes with appearing on this series. The third reason was to try to win a piece of business.
Q: Your business partners, Harold and Jackie, are two of your closest friends. What's the key to balancing each relationship successfully, both personally and professionally?
A: A lot of it is the fact that we have permission to disagree about all kinds of stuff, to push each other, to argue. I'm not saying that happens all the time. But we're so secure in our personal relationships that dates back 35 years that we kind of don't worry about it. We laugh a lot, we get along really well. We don't sit there and stress over, "Geez, if I tell Jackie that I think she's full of crap over something, she's going to take it personally." We have a life outside of business that has survived decades.
Q: The three of you have been working together for a long time. How has your relationship evolved over the years from when you first started?

A: We have evolved based on the strengths of the three of us, which are our interests and career experiences prior to Monogram. I was a corporate designer, Harold was a big agency creative director, and Jackie was a market research guru. So you go, "How do you put all that together and ladder it up to something that's somewhat unique in the marketplace?" That took us a while to settle upon. So now our answer to the age-old question "So what do you specialize in?" — the question that every agency in the world gets asked at every cocktail party — is that we reposition brands. The fact is, probably three quarters of our engagements start with Jackie. So when you think about the research that leads to the branding that leads to the go-to-market piece, those are the three components that we have here as partners. There's a seamlessness to how we work, because we all weigh in on each other's component of it. It's kind of one-plus-one-equals-six kind of thing.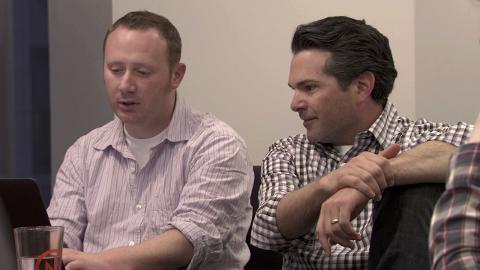 VIDEO: The Team at Monogram Creates an Identity for The Fuller Brush Company Mascot.
Q: So who has the final say on what "six" is?
A: I'm Jewish, so I grew up in a culture where people debate stuff. There's no one, right answer. There's thousands of years of interpreting the Old Testament — you can get 500 rabbis in one room with the Jewish Torah and get 5,000 different interpretations. We kind of take the same model here. We openly discuss and debate stuff with intellectual rigor, a lot.
Q: The Fuller Brush Company visited the office to see the direction you were heading in. Is it normal for the client to see creative before the pitch?
A: We do a ton of research, and we do share research findings with our clients all the time. With The Pitch, we mashed stuff together quickly. We were doing research while we were developing creative. With the time constraints, we didn't have a choice, but when it comes to showing creative work to the client before the pitch, no, we don't do that.
Q: What made you change your mind about sharing creative ideas with the client this time?
A: We talked about it internally and decided that if we wanted to get where we wanted to get, we had to open up a little. In the end, we decided it was in our best interests to show them just enough to do a litmus test that we were headed in the right direction. The time pressure was huge, so we just went for it.
Q: What was the first thing you thought when the client said that you and the other agency both had the same idea for a tagline, "Live Fuller"?
A: My first reaction was, "Boy, this is a new one. I have not been through this before." I think if you talk to 300 agencies, they'd say that's pretty damn rare. But when you think about the background, the circumstances, the brand — it's not like it's crazy that two agencies came up with the same tagline. The information that leads you to a certain thought process, a certain pathway — they're smart people, they're a good agency, so they took the same bait we did. That said, I've been at this 35 years and I don't ever remember that happening before.
Click here to read about why The Fuller Brush Company chose The Monogram Group
Read More