Unscripted
The Pitch Q&A – Tom Westrum and Ben Tiernan (ONE/x)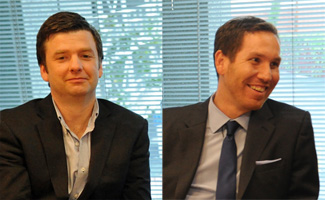 In Season 2, Episode 7  of The Pitch, 1-800-FLOWERS.com chose ONE/x as the winning agency. ONE/x CEO Ben Tiernan and Partner Tom Westrum talk about their company's name and their hands-on approach to research.
Q: Where does the name One/x come from?
Ben: It's not something we talk about often. It's a little nerdy. But One/x is formally the number "1" over "x," so it's a mathematical inversion. When you multiply an equation by 1/x it inverses the equation. It essentially turns the equation upside down so you can look at it differently. And that's what we do as an agency.
Tom: As you can imagine, the explanation is a big hit at cocktail parties.
Ben: Yeah, it's a little dorky. But we think it's descriptive of what we do. We use a lot of math and analytics as we approach our problems, so we thought that was an appropriate name.
Q: When you heard the 1-800-FLOWERS brief, what did you think was going to be the biggest challenge? In the end, what was?
Tom: The actual pitch in and of itself, while challenging, wasn't something that we would look at and go, "Oh, my. This is above and beyond us." It was definitely what we do. I think the biggest challenge of the brief was the notion of social gifting. There's not a lot of agreement on what that even means, let alone about how best to bring awareness to social gifting and then tie it back to 1-800-FLOWERS. So in that respect it was a challenge, but also a fantastic opportunity for us to help define what social gifting is and associate it to the brand.
Ben: Absolutely. It kind reminded me of my early days working on energy drinks — there was no sense of what an energy drink was. So this was very similar, developing a whole cultural understanding around what is this thing all about before you can even start to sell it. In this case, it's a totally new way of gifting, a totally new way of using social technology, and a totally new way of relating with your friends. Ultimately, yes, it was about the product. But it was also about the education, understanding and relevance that we had to develop to get to the point where we say, "And 1-800-FLOWERS.COM is the brand you should use for social gifting."
Q: You volunteered at a flower shop as part of your research. Are you both usually that hands-on in your research?

Tom: Most agencies do a lot of research before coming up with creative ideas, so it's not that unique. But it's a big part of what we do at ONE/x, and something that we adhere to very rigorously. We don't want to sit in an ivory tower and come up with some really creative idea that has no basis in reality. For us, with all of our different clients, we try to take things from their point of view. We try to immerse ourselves into their problems and into their business — walk a mile in their shoes. In this instance, it happened to be a day in a flower shop.
Ben: We try to adhere to a commonly-held best practice in account planning: spending 50% of the time doing qualitative/quantitative research and 50% developing creative. We may have had a little fun with the research this time, but it's not that far off from what we might usually do. We might follow around a flower shop proprietor instead of becoming one.
Tom: Actually, I think Ben may have found a calling that day.
Ben: Oh, my, yes! I think I was very good at it.
Tom: I, on the other hand, was not good at all. But Ben — quite the florist that day!
Q: Were either of you nervous at all about appearing on camera?
Ben: I wasn't nervous. But I did feel different in front of the camera. I wasn't expecting that. You feel more self-aware. So I'd say I wasn't nervous about it, but if I had known what it felt like to be on camera, I might have been more nervous about it.
Tom: I don't think I was nervous. But, as Ben said, maybe more self-conscious, more self-aware.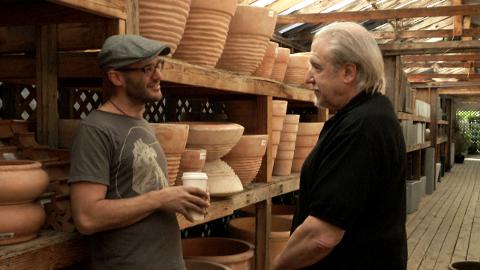 VIDEO: ONE/x Looks for Inspiration.
Q: What was your most memorable moment from shooting The Pitch?
Tom: I was able to recreate the running scene from Rocky. That was pretty memorable. I had a little David Hasselhoff-in-Baywatch moment, running on the beach. [Laughs] No, really, the whole experience was quite memorable.
Ben: I'd say, off-camera, I really enjoyed getting to know the crew, they were really creative people. In front of the camera, I think I was just trying to get work done and not have any episodes that were memorable. [Laughs]
Click here to read about why 1-800-FLOWERS.com chose ONE/x
Read More