Unscripted
The Pitch Q&A – Phil Mowrey (DBD)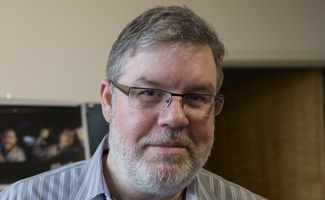 In Season 2, Episode 6 of The Pitch, Gibson Brands chose DBD as the winning agency. DBD Creative Director Phil Mowrey talks about working with his son David and his on-camera past.
Q: DBD is a family business. Where does the name DBD come from?
A: The name Daniel Burton Dean — those are middle names. My middle name is Dean. My dad's middle name is Daniel, he started the business in 1976. His dad, the Burton, gave my dad the money to start the business. But my mother and my father were the original partners in 1976.
Q: How did you start off in the company?
A: I started off on the drawing board — I was an illustrator. Then I started working with clients, then I started learning the entire scope of the business. I became senior management in '89, then my father finally retired in '95.
Q: You now work with your son, David. What's that like?
A: He surprises me every day. He's learning a lot. Now he's learning more than I know, which is great.
Q: David's first pitch was with Gibson. What made you decide to bring him?
A: I had probably been holding him back by overcompensating because I didn't want to show favoritism. But I realized he had the merit to be on the pitch.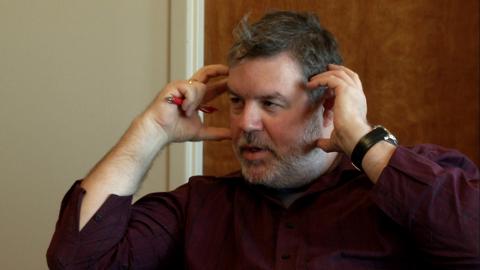 VIDEO: The DBD Team Brainstorms
Q: Has David done other pitches since then?
A: Oh, yes. He actually took over a client yesterday. I think he'll take us places that I haven't thought about. That's the idea, for him to take it and move it now where he wants to take it.
Q: Were you nervous at all about appearing on camera?
A: Oh, gosh. I'd say no, but it probably looks like I was. [Laughs]. But no, not really. Not when you get going. You don't even realize the cameras are there. Also, you need time to be nervous. Our campaign wasn't just a one-page ad, it was a global campaign. There was no time to be nervous.
Q: Had you ever been on camera before?
A: I've been behind the camera a lot, but I was on camera as a little kid. I was in a couple of commercials and stuff like that. My dad worked at a much larger agency then — they did a lot of TV, and I was in a couple of spots.
Q: Did you ever put David in any ads as a kid?
A: Yes, he was in a lot of brochures. He was our go-to model.
Q: And I guess he still is. You used him in some of the Gibson ads you presented.

A: Yep, that's right! So I guess that wasn't so unique. To have him do that was like, "Oh you've done this before."
Q: While you were filming, Henry Juszkiewicz from Gibson decided to visit last-minute. Did that throw you for a loop?
A: We were surprised. That never, ever happens. But we were glad to have him there. It was a chance to show him where we were, kind of mid-stream, and see what he thought. He seemed to be very pleased. We were kind of surprised how easy he went on us.
Q: You mentioned in the episode that you felt like agencies in smaller cities are creating the best work these days. Why do you think that is?
A: I think that big cities like New York, L.A. and Chicago are no longer the sole pockets of good creative. One of the best agencies in the country right now is in Virginia, The Martin Agency. They do the Geico ads. They're a perfect example of a great agency in a smaller metro. I think it's because a lot of the talent that was in larger cities has dispersed. Technology now lets it happen anywhere.
Q: Any lessons learned from doing The Pitch?
A: One very practical thing we learned is that doing a no-audio concept on a product that's all about sound is a difficult one to get across. That was definitely a big lesson. We won't forget that one [Laughs].
Click here to see artwork created by DBD for Gibson Brands
Read More