Press
Chicago Tribune, Crain's Spotlight Chicago Ad Firms, Little Caesars on The Pitch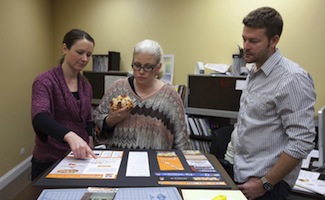 This week, the Chicago Tribune checked out the four area ad agencies that appear on The Pitch, while Crain's Detroit Business examined the involvement of Little Caesars Pizza. Plus, one of this week's ad firms, suburban Chicago's Bee-Line Communications, got some local press. Read on for more:
• The Chicago Tribune reports that four local ad agencies will appear "on a national stage as they compete for clients" on The Pitch.
• Crain's Detroit Business reports that Little Caesars Pizza was a featured brand on The Pitch, as the Detroit pizza chain sought a digital and social media campaign.
• Chicago Business Journal observes that two Chicago-area ad agencies will get "some national exposure" when they vie for a Little Caesars Pizza account in this week's The Pitch.
• The Daily Herald profiles Stacey McClenathan, who launched Libertyville, Illinois' Bee-Line Communications — which is up against a Chicago agency in The Pitch. "It's a contrast how the city kids do it versus how we do it in the burbs," she says.
• The Evansville (Ill.) Courier & Press features Daniel Burton Dean, an ad agency that will appear on next week's The Pitch to try to win business from Gibson Brands.
• Libertyville (Ill.) Review chats with Bee-Line Communications' Stacey McClenathan about how her agency ended up on The Pitch this week.
• Patch spotlights Bee-Line Communications of Libertyville, Illinois which competed for a chance at the Little Caesars Pizza account.
Read More